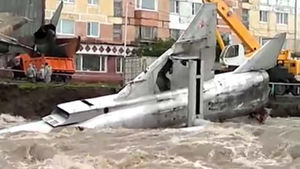 A powerful cyclone in Russia's Far East has caused a river in the city of Magadan to break its banks and wash away a display of old Soviet fighter jets. Some people have taken to jet skiing along the streets to get around.
Three months worth of rain fell overnight on Tuesday and turned the normally shallow Magadanka River into a torrent taking everything in its wake, from small buildings to the skeleton fighter jets, down towards the Sea of Okhotsk.
The two fighter jets were part of public display of military hardware, parked next to apartment blocks and used as a playground for local children.