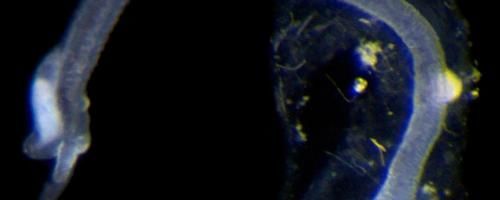 The saga of the Osedax "bone-eating" worms began 12 years ago, with the first discovery of these deep-sea creatures that feast on the bones of dead animals. The Osedax story grew even stranger when researchers found that the large female worms contained harems of tiny dwarf males.
In a new study published in the Dec. 11 issue of
Current Biology
, marine biologist Greg Rouse at Scripps Institution of Oceanography at UC San Diego and his collaborators reported a new twist to the Osedax story,
revealing an evolutionary oddity unlike any other in the animal kingdom
. Rouse's collaborators included Nerida Wilson (formerly based at Scripps and now at the Western Australian Museum), Katrine Worsaae of the University of Copenhagen, and Robert Vrijenhoek of the Monterey Bay Aquarium Research Institute (MBARI).
Examining bone worms collected at 700 meters (2,296 feet) depth by an MBARI remotely operated vehicle, Rouse observed a surprising new type of Osedax species. Females of the new species are roughly the same size as their previously studied relatives, but males are
tens of thousands of times larger
than those of other Osedax worms, and are roughly the same size as the females.