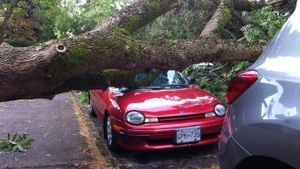 Surrey woman suffers life-threatening injuries after being struck by falling tree
Winds maxing out at 90 km/h in some parts of southwest B.C. have made for dangerous conditions on roads, with downed trees and power lines. At least 400,000 homes are without power.
Vancouver Island and the Sunshine Coast are also experiencing damage from the winds. Environment Canada says winds peaked at 117 km/h on Saturna Island.
High winds forced the closure of Vancouver's jewel, Stanley Park, although the east side of the park re-opened Saturday afternoon.
The annual Pacific National Exhibition initially said it would close but later announced it would stay open after Environment Canada cancelled a wind warning.