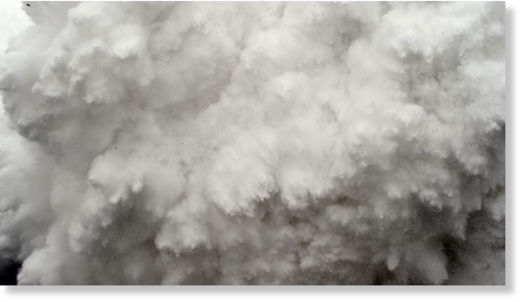 It is hard enough to survive a massive earthquake in Nepal and for that to be followed by a horrific avalanche at Mount Everest. However, some climbers managed to capture the moment they were hit by a sea of ice and snow crashing into them on camera.
A terrifying video posted on YouTube by German climber Jost Kobusch shows people at the Everest Base Camp stumbling in confusion as powerful the 7.9-magnitude earthquake hit Nepal on Saturday.
[WARNING: STRONG LANGUAGE]
Kobusch can be heard saying "the ground is shaking,
"
while laughing nervously at the start of the clip. The visibility was so poor, he was hardly able to see the slopes of the Himalayan Mountains.
Climbers nearby begin scrambling, yelling and trying to warn others of the imminent avalanche. Caught off guard, people try to find some cover, but the wall of snow was quick and brutal.
Cursing profoundly, the German hides in front of a tent with no proper protection. Seconds later, the climbers are buried by a wave of snow. One can hear Kobusch and another man trying to catch their breath, as the climber goes into a state of shock.