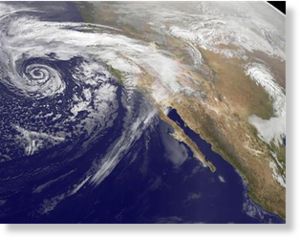 A massive winter storm system packing cold air, snow and freezing rain was pummeling the central United States on Sunday and headed for the East Coast, sending temperatures plummeting and causing major delays for weekend travelers. Rainfall and snow associated with the system will stretch over 1,500 miles, from southeastern Colorado to southern Massachusetts, meteorologists said.
The storm "is going to be a real mess," said Bruce Sullivan, a senior meteorologist with the National Weather Service in Silver Spring, Maryland. "The main system is injecting a lot of moisture and cold air out over the Southern Plains," he said. "It's going to bring quite a bit of precipitation."
Heavy snow could fall on an area from eastern Kansas to Pennsylvania, with the Mid-Atlantic, including parts of Maryland and Washington D.C., getting up to 12 inches before the system dissipates on Monday. More than 1,500 flights were canceled and another 2,880 were delayed as of mid-afternoon on Sunday, according to the airline tracking site FlightAware.com.
"Ripple-effect flight delays and cancellations are likely to reach nationwide," said AccuWeather meteorologist Alex Sosnowski.