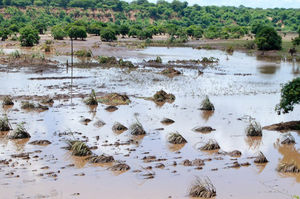 Aid agencies raced on Monday to reach tens of thousands of people displaced by catastrophic floods across southern Africa, as more heavy rain was forecast in the coming days.
More than 200 people have died in Malawi, Mozambique and Madagascar in one of the worst disasters to hit the region in years. Rivers have burst their banks, flooding vast areas and destroying homes, bridges and crops.
"After surveying the flooded districts from the air, we know that the scale of flooding is immense, and with the rains still falling, the water is unlikely to recede quickly," UNICEF's representative in Malawi, Mahimbo Mdoe, said in a statement.
"Stagnant water and poor sanitation can be deadly for young children, so we are in a race against time to reach displaced communities with clean water, sanitation and medical supplies."
More downpours were forecast in Malawi and Mozambique, said the U.N.'s Office for the Coordination of Humanitarian Affairs (OCHA).