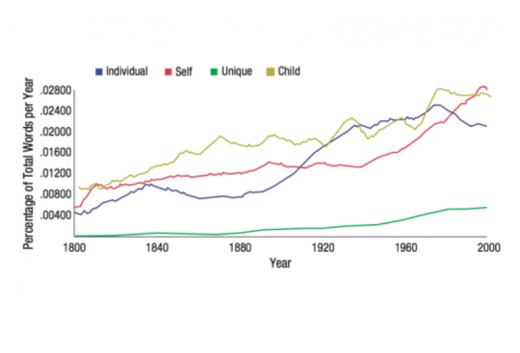 The words that consistently pop up in published literature can tell us a lot about individual and cultural trends and values. Are people talking about their
emotions
more? Are people
feeling depressed
?
Patricia Greenfield, a psychology professor at the University of California at Los Angeles, decided to use word frequency patterns to identify how people's values have shifted over time from the sociological concepts of
gemeinschaft
(translated from German as community, reflecting a rural society with a subsistence economy) and gesellschaft (translated as society, reflecting an urban, wealthy, technological culture).
By analyzing word frequency data from more than a million books published in the United States and Britain between 1800 and 2000, using Google Books Ngram Viewer, Greenfield found that
our language has slowly shifted to focus on
individualism
and material gain.
We now use more individual-focused words like "get" and "choose," rather than group-focused words like "give" and "obliged."