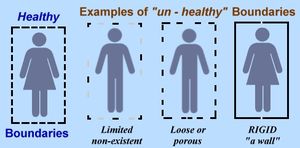 What can protect you from toxic people, keep painful memories in their place, keep you safe and strong, and help you manage your feelings?
Boundaries.
Truly, boundaries are amazing. And good ones are a cornerstone of mental health.
When you grow up in a household that has healthy boundaries, you naturally have them yourself as an adult. But unfortunately, many of us don't start out with that advantage.
If you grew up in a household with Childhood Emotional Neglect (your feelings and emotional needs weren't met enough), or if you had a parent with a personality disorder, you may be especially challenged in this area.
Without strong but flexible boundaries, you may be overly vulnerable to criticism or insults from others, you may struggle to manage your feelings internally or prone to emotional outbursts, you may find yourself worrying too much, dwelling on the past, or not keeping yourself safe enough.