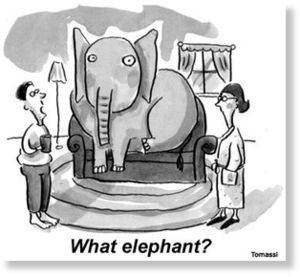 There is one topic that stands like the proverbial elephant in our collective living room, and it's still unacknowledged, ignored or misunderstood by many people. It's the underlying issue for our society and the world's problems. This is the topic of Psychopathy, especially Psychopaths in positions of power, and how it affects our world and society at large. More and more research and studies have been published that prove the existence of this 'intra-species predator', yet it's still being avoided and not sincerely studied and looked at by the many well-meaning people who work actively at trying to make this world a better place. They focus on the symptoms, but not the underlying causes.
A couple of weeks ago, I attended a talk in Topanga Canyon by
Marianne Williamson
who is running for Congress. I was reluctant to go, knowing that it was futile to try and change the political system through the system. I've written about it before: "
Voting, Cognitive Dissonance and Fear of the Unknown
" as well as "
The Illusion of Choice
". However, considering that I like some of her past work and we used a clip of her talk at a festival in our film "
Love, Reality, and the Time of Transition
", I decided to go see what she had to say...