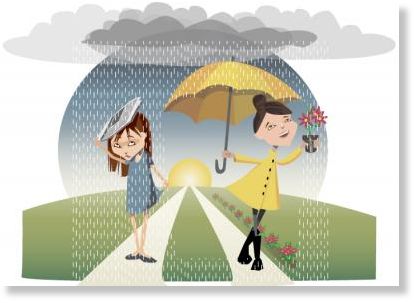 When trouble approaches, what do you do? Run for the hills? Hide? Pretend it isn't there? Or do you focus on the promise of rain in those looming dark clouds?
New research suggests that the way you regulate your emotions, in bad times and in good, can influence whether - or how much - you suffer from anxiety.
The study appears in the journal
Emotion
.
In a series of questionnaires, researchers asked 179 healthy men and women how they managed their emotions and how anxious they felt in various situations. The team analyzed the results to see if different emotional strategies were associated with more or less anxiety.
The study revealed that
those who engage in an emotional regulation strategy called reappraisal tended to also have less social anxiety and less anxiety in general than those who avoid expressing their feelings. Reappraisal involves looking at a problem in a new way
, said University of Illinois graduate student Nicole Llewellyn, who led the research with psychology professor Florin Dolcos, an affiliate of the Beckman Institute at Illinois.
"When something happens, you think about it in a more positive light, a glass half full instead of half empty," Llewellyn said. "You sort of reframe and reappraise what's happened and think what are the positives about this? What are the ways I can look at this and think of it as a stimulating challenge rather than a problem?"
Study participants who regularly used this approach reported less severe anxiety than those who tended to suppress their emotions.