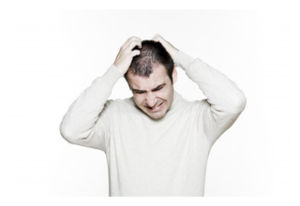 Watching another person scratch an itch can cause you to do the same, and scientists have figured out the basis of this peculiar "itch contagion." It's all in your brain.
Merely seeing someone else scratch activates brain centers involved in the itch response, suggesting the observation makes one itchy.
But this response doesn't apply to everyone. Those study participants who were
more neurotic
(a tendency toward negative emotions) were more likely to experience itch contagion. Surprisingly, the researchers found
empathy
(a willingness to take another's viewpoint) did not correlate with the phenomenon.
"Before it was only anecdotal that people experience contagious itch," lead study author Henning Holle, a research fellow at the University of Sussex, told LiveScience. "There's a general tendency for people to experience contagious itch."
Catching an itch
To see where this happens in the brain, Holle and colleagues used functional magnetic resonance imaging (fMRI) machines to scan the brains of participants who watched silent videos of people either scratching or tapping themselves. (MRI scans show blood flow to active areas of the brain.)
Several regions of the brain already known to be involved in the itch response (both in "feeling itchy" and the related scratching behavior) lit up during the scratching videos. These included the premotor cortex, which influences motor activities, and the insula, a region behind the temples that activates when people experience empathy. However, during the tapping videos, these same brain centers didn't light up.
The researchers included psychological tests for the 51 study participants and found that empathetic people did not have heightened levels of itch contagion. Past research has suggested another contagious behavior, yawning, may be heightened for friends and family, suggesting
contagious yawns
may stem, in part, from empathy.