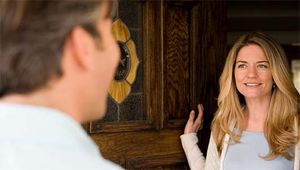 We'd all like to think that we have some sort of sixth sense that will warn us when we're truly in danger, some animal instinct that raises the hair on the backs of our necks, gives us goose bumps and sends us running in the opposite direction.
Retired FBI profiler Mary Ellen O'Toole, Ph.D., is here to tell us the truth about trusting our intuition in perilous situations. In
Dangerous Instincts: How Gut Feelings Betray Us
, she
outlines
how to protect yourself and your loved ones from bad people. Her tips are especially useful if you're thinking of doing some online dating, hiring a contractor/nanny/assistant, or letting your child's coach or another parent give him a ride home.
It's perilous out there, and you could just crawl under the covers (with your entire family) and never come out. Or you can learn from O'Toole's 28 years of experience as an FBI agent, 15 of them as a profiler with the Behavioral Analysis Unit (BAU) - the work popularized by shows like CBS's
Criminal Minds
. O'Toole worked on such cases as the Green River Killer, the Elizabeth Smart kidnapping and the hunt for the Unabomber. This and other experience interrogating wrongdoers taught her how to read people.