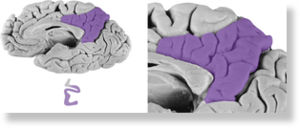 Scientists have historically relied on neuroimaging - but not electrophysiological - data when studying the human default mode network (DMN), a group of brain regions with lower activity during externally-directed tasks and higher activity if tasks require internal focus. Recently, however, researchers at Stanford University School of Medicine recorded electrical activity directly from a core DMN component known as the posteromedial cortex (PMC) during both internally- and externally-directed waking states - specifically, autobiographical memory and arithmetic calculation, respectively. The data they recorded showed an inverse relationship - namely, the degree activation during memory retrieval predicted the degree of suppression during arithmetic calculation - which they say provides important anatomical and temporal details about DMN function at the neural population level.
Drs. Josef Parvizi, Brett L. Foster, and Mohammad Dastjerdi faced a range of challenges when recording intracranially from the human posteromedial cortex. "A key challenge in specifically studying the
electrical activity
of this region is that unlike much of the brains outer cerebral cortex, the posteromedial cortex is not superficially visible," Foster tells Medical Xpress. Rather, he illustrates, it is part of the cerebral cortex that is hidden from view, which wraps over into the middle space between the left and right brain hemispheres "like the inner walls of a glacier crevasse."
This is a two-fold problem, he continues. "Not only does this hidden location make it very difficult to record this regions electrical activity from outside the skull on the scalp - a common technique - but also, even if one gets the opportunity to record more closely from inside the skull, one still needs to access this hidden cortex within the narrow space between the two hemispheres." Importantly, the ability to do so in the human brain only arises out of a unique clinical opportunity, where neurosurgeons have diligently placed electrodes onto the cortical walls of this inter-hemispheric space to monitor epileptic seizure activity as part of surgical planning. "The findings reported in our study are all derived from this unique opportunity, which allowed for direct recordings of electrical neural activity from the posteromedial cortex."