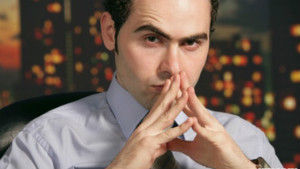 Think you suffer from a "psycho" boss? A small but growing body of global research suggests you might be right.
Call it the "Psycho-path to Success."
Psychopaths -- narcissists guided without conscience, who mimic rather than feel real emotions -- bring to mind serial killers such as Ted Bundy or fictional murderers such as Hannibal Lecter or
Dexter
, the anti-hero of the popular Showtime TV series. But psychologists say most psychopaths are not behind bars -- and at least one study shows people with psychopathic tendencies are four times more likely to be found in senior management.
"Not all psychopaths are in prison -- some are in the boardroom," said Dr. Robert Hare, a Canadian psychologist who is co-author of the book
Snakes in Suits: When Psychopaths Go To Work
.
Is your boss a 'psycho'?
And British researcher Clive Boddy goes further: He thinks the 2007-2008 financial crisis may have resulted in the growing proliferation of psychopathic personalities in the corner office -- an offshoot of the erosion of single company employment in the last generation.