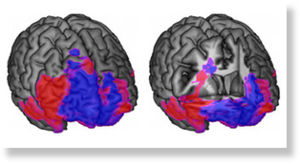 The frontal lobes are the largest part of the human brain, and thought to be the part that expanded most during human evolution. Damage to the frontal lobes - which are located just behind and above the eyes - can result in profound impairments in higher-level reasoning and decision making. To find out more about what different parts of the frontal lobes do, neuroscientists at the California Institute of Technology (Caltech) recently teamed up with researchers at the world's largest registry of brain-lesion patients. By mapping the brain lesions of these patients, the team was able to show that reasoning and behavioral control are dependent on different regions of the frontal lobe than the areas called upon when making a decision.
Their findings are described online this week in the early edition of the
Proceedings of the National Academy of Sciences (PNAS).
The team analyzed data that had been acquired over a 30-plus-year time span by scientists from the University of Iowa's department of neurology - which has the world's largest lesion patient registry. They used that data to map brain activity in nearly 350 people with damage, or lesions, in their frontal lobes. The records included data on the performances of each patient while doing certain cognitive tasks.
By examining these detailed files, the researchers were able to see exactly which parts of the frontal lobes are critical for tasks like behavioral control and decision making. The intuitive difference between these two types of processing is something we encounter in our lives all the time. Behavioral control happens when you don't order an unhealthy chocolate sundae you desire and go running instead. Decision making based on reward, on the other hand, is more like trying to win the most money in Vegas - or indeed choosing the chocolate sundae.