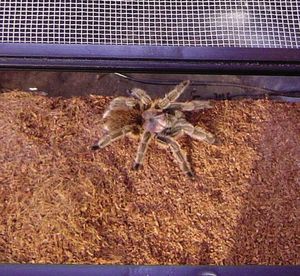 "Give sorrow words." -- Malcolm in Shakespeare's "Macbeth"
Can simply describing your feelings at stressful times make you less afraid and less anxious?
A new UCLA psychology study suggests that labeling your emotions at the precise moment you are confronting what you fear can indeed have that effect.
The psychologists asked 88 people with a fear of spiders to approach a large, live tarantula in an open container outdoors. The participants were told to walk closer and closer to the spider and eventually touch it if they could.
The subjects were then divided into four groups and sat in front of another tarantula in a container in an indoor setting. In the first group, the subjects were asked to describe the emotions they were experiencing and to label their reactions to the tarantula -- saying, for example, "I'm anxious and frightened by the ugly, terrifying spider."
"This is unique because it differs from typical procedures in which the goal is to have people think differently about the experience -- to change their emotional experience or change the way they think about it so that it doesn't make them anxious," said Michelle Craske, a professor of psychology at UCLA and the senior author of the study. "Here, there was no attempt to change their experience, just to state what they were experiencing."