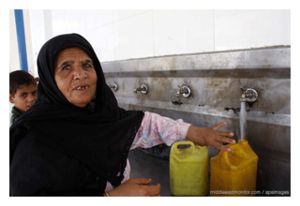 Some 45,000 Palestinians living in the Shuafat refugee camp and the suburbs of Ras Shehadeh, Ras Khamis, As-Salam and Anata in Jerusalem have had their water cut off for nearly three days.
The residents said Israel's water company Gihon started by gradually reducing the water supply nearly two weeks ago until it stopped entirely.
A member of Shuafat's popular committee; Khaled Al-Khalidi said on Wednesday that 23,000 refugees had no access to water for three days while the residents of Ras Shehadeh; Ras Khamis, As-Salam and Anata have been without water for 20 days.
Al-Khalidi demanded "UNRWA, the camp's service provider, to fulfil its obligations towards the refugees and prosecute the Jerusalem municipality and Gihon to oblige them to return the water supply."
Al-Khalidi pointed out that "UNRWA and Jordan signed an agreement in 1956 to provide water service to the Palestinian refugees without charge and in 1967 the Israeli Civil administration joined the Convention. However in 1988 when Israel tried to cut off the water supply to the camp residents, the refugees prosecuted the company and forced it to return the water supply."