Comment: Below we see one of the effects of the U.S. "cold war" against Russia. The U.S. sees this as merely collateral damage, they care very little for the suffering of the average Ukrainian and whether or not they have to live without heat in the brutal Eastern European winter. The comforts of the average person is of little consideration in the war against Russia. In the minds of psychopaths, such things are not even considered.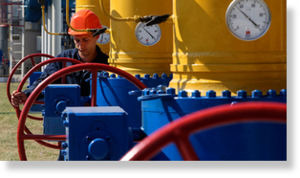 With natural gas shortages central heating may not be in place in Ukrainian flats for the cold winter. While people are rushing to buy electric heaters, authorities have issued brochures with advice on how to cope with freezing temperatures.
Recognizing that it is extremely hard to keep a city flat warm with no central heating, Kiev authorities, for example, launched a campaign aimed at informing citizens on tricks and methods they could use to save energy and heat - at temperatures of -10 degrees Celsius and lower.
Firstly, the heat insulation of windows and doors is strongly advised, as well as the purchase of a personal boiler or energy-saving heating installation. In fact, people are already starting to buy the boilers: shop owners in Kiev told TCH TV channel that demand for such devices has increased at least threefold since the beginning of the crisis.
Also, it is suggested in the brochures that city residents should buy warm clothes made of natural fabric, valenki, and headwear to protect themselves from freezing temperatures.
Where there is heating in flats, the authorities advise to paint the radiators red or brown instead of traditional white, in order to increase their heat output - or wrap them in foil.
With so many heating devices power consumption will increase and may overload the grid, authorities are also giving advice on electricity savings: from switching to lower wattage light bulbs, to giving up on devices' stand-by functions and instead unplugging them completely.