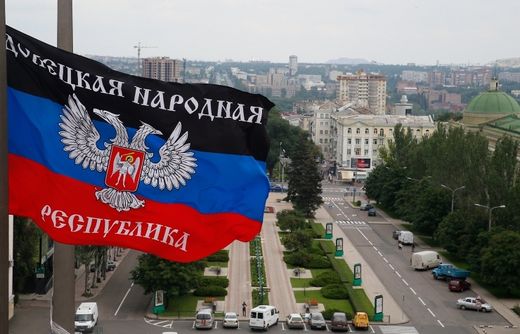 Comment:
UPDATE
: Apparently, leaders of both
DPR
and
LPR
have denied these reports (sources in Russian).
Comment:
Russia has started using the term 'Novorossiya' to refer to the People's Republics of Donetsk and Lugansk in its official statements and documents these last few days. Putin even went so far as to refer to the
'state' or 'statehood'
of the Republics in a recent interview, which was immediately picked up by media as an endorsement for the republics' independence. While Putin's spokesman, Dmitry Peskov, said there was
no official endorsement
independence, adding that the areas should remain part of Ukraine, we wonder if this was Putin's subtle hint to Kiev: if it comes to it, Moscow will officially recognize Novorossiya. That could lead to more substantial support. Now, DPR and LPR, who have been pounding Kiev forces (retaking Lugansk airport and in the process of taking Donetsk's) -- and who have just recently called for nothing less than
full independence
-- come back with this compromise.
Representatives of the self-proclaimed Donetsk and Luhansk People's Republics (LPR and DPR) said on Monday
they will make every effort to preserve Ukraine's unity if Kiev accepts their demands
.
Representatives of LPR and DNR have made public their position for the meeting of the Contact Group on Ukraine in the Belarusian capital Minsk that begins later on Monday.
They say "
equal talks are the only acceptable means for the settlement of the conflict and restoration of peace
". They also base on principles worked out at the Geneva meeting of representatives from Russia, the US, the European Union and Ukraine on April 17, 2014.
Vice-Premier of the DPR Andrei Purgin said on Monday he brought proposals for the contact group's meeting to reduce the duration of combat operations and the number of victims. "I've arrived here with proposals to find common points. They contain eight or nine points," Purgin said before the contact group's session. "These are initial proposals for the consultations," he added.
Purgin said he did not expect a major breakthrough at the Minsk meeting. "This is an initial stage. It can hardly end with something drastically big," he added.