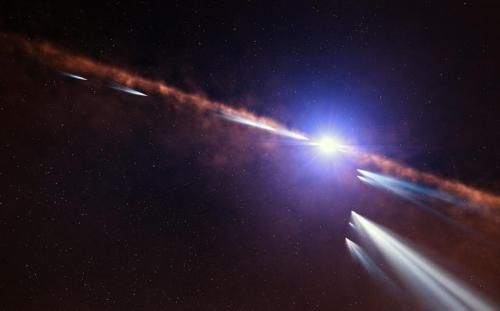 Beta Pictoris is a young star located about 63 light-years from the Sun. It is only about 20 million years old and is surrounded by a huge disc of material - a very active young planetary system where gas and dust are produced by the evaporation of comets and the collisions of asteroids.
Flavien Kiefer (IAP/CNRS/UPMC), lead author of the new study sets the scene: "Beta Pictoris is a very exciting target! The detailed observations of its exocomets give us clues to help understand what processes occur in this kind of young
planetary system
."
For almost 30 years astronomers have seen subtle changes in the light from Beta Pictoris that were thought to be caused by the passage of comets in front of the star itself
.
Perhaps 'something wicked this way comes'?
Comets are small bodies of a few kilometres in size, but they are rich in ices, which evaporate when they approach their star, producing gigantic tails of gas and dust that can absorb some of the light passing through them. The dim light from the exocomets is swamped by the light of the brilliant star so they cannot be imaged directly from Earth.
Rosetta update: Dirty snowball is "dry like hell"
"It is
nothing like the so-called dirty snowball or fluffy ice ball
that mainstream astronomers have long envisioned
.
Most astonishingly,scientists have reported they have
not found a single trace of water ice on the comet surface
. It is, in the words of mission scientist Holger Sierks,
"dry like hell."
To study the Beta Pictoris exocomets, the team analysed more than 1000 observations obtained between 2003 and 2011 with the HARPS instrument on the ESO 3.6-metre telescope at the La Silla Observatory in Chile.
The researchers selected a sample of 493 different exocomets. Some exocomets were observed several times and for a few hours. Careful analysis provided measurements of the speed and the size of the gas clouds. Some of the orbital properties of each of these exocomets, such as the shape and the orientation of the orbit and the distance to the star, could also be deduced.