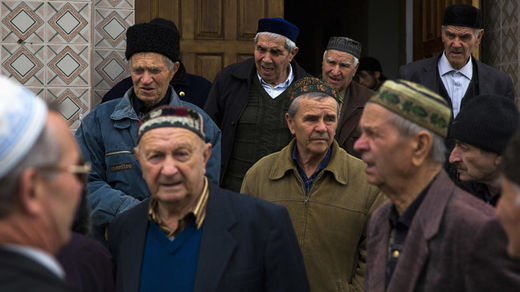 A resolution passed by the Crimean parliament guarantees proportional representation in the republic's legislative and executive bodies for the Crimean Tatar ethnic minority and grants their language official status, among other things.
The resolution provides for constitutional reform that would amend several key provisions of Crimea's basic law. Under the amended constitution, the
Crimean Tatar language would be granted official status
, on a par with Russian and Ukrainian in Crimea.
It stipulates
proportional representation in future parliaments
and provides for at least 20 percent of seats in the republic's executive for Crimean Tatars. They would have guaranteed representation in the lower levels of government as well.
The parliament also wants to recognize as official the self-governance bodies of the Crimean Tatars, starting with the Kurultai, a general assembly of the Tatars.
Crimean MPs pledged to fund programs for support of the Tatar community in Crimea and repatriation of Crimean Tatars
, who were deported from the peninsula by Joseph Stalin's Soviet government in the 1940s.