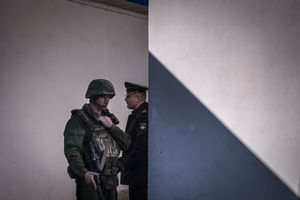 Sevastopol, Ukraine - Drawing on his experiences as a young artillery officer in imperial Russia's military during the Crimean War in 1853-56, Leo Tolstoy described in "Sevastopol Sketches" how a Russian soldier whose leg had been amputated above the knee coped with agonizing pain.
"The chief thing, your honor, is not to think," Tolstoy's amputee remarked. "If you don't think, it is nothing much. It mostly all comes from thinking."
It is advice, however, that virtually nobody in Crimea, particularly here in Sevastopol, shows any sign of heeding. With nearly every other main street named after a Russian military hero or a gruesome battle, its lovely seafront promenade dominated by a "monument to sunken ships" and its central square named after the imperial admiral who commanded Russian forces against French, British and Turkish troops in the 19th century, Sevastopol constantly feeds thoughts of war and its agonies.
Bombarded with reminders of the Crimean War, which involved a near yearlong siege of the city in 1854-55, and World War II, when the city doggedly resisted Nazi forces until finally falling in July 1942, Sevastopol has never stopped thinking about wartime losses - and has never been able to cope with the amputation carried out in 1954 by the Soviet leader Nikita S. Khrushchev.

Comment: The significance of this article placed today in the New York Times, lies in the fact that this is the first time this week that an establishment media source has pointed out that the Crimea is really much more Russian than Ukrainian and that it has only been part of the Ukraine for sixty years. Taken together with the fact that the U.S. stock market has risen since the sharp drop on Monday at the outset of the latest phase of the crisis, this indicates that the crisis is settling down and that Russia will keep Crimea, the rest of Ukraine will lean towards the west. There will be a lot of yelling and stamping of feet among the political and media types in the U.S., but the outline of the deal is clear. The western banks will get Ukraine, the IMF will administer the country and impose austerity, and the inevitable "IMF Riot" once the working class in the Ukraine wakes up to how much they have been fooled will be brutally suppressed by fascist thugs in the new government. Russia will get the Crimea and keep naval access to the Black Sea and the Great Game for control of energy resources in Central Asia and the Middle East will continue.