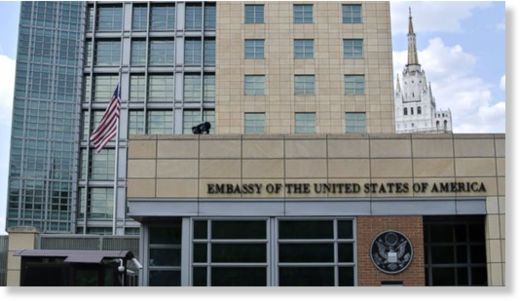 Comment: The anti-Russian propaganda is still running strong. The presstitutes in the media are all too happy to be the lapdog for the psychopathic U.S. government in their witch hunt against Putin and Russia. It's truly pathetic. As it's laid out below, it's another example of the psychopathic accusing its victim of doing exactly what it is doing. Cunning, if you're a psychopath. Maddening to anyone with a conscience.


Reports of US diplomats in Moscow being systematically mistreated are "groundless," Russia's Foreign Ministry said. It also accused US special services of provocations and attempting to recruit Russian diplomats in Washington.
Responding to an ABC
"exclusive,"
the ministry said that voiced "complaints" are "banal fantasies" that"do not reach the level of cheap spy detectives."
"What is outrageous is the peremptory and contrary to the facts statement by the US State Department press secretary that "in contrast to the behavior of the Russians," the American side treats diplomats from Russia with the utmost respect," the Russian Foreign Ministry
statement
reads.
In a report Monday, ABC News accused Russia of Cold War-style harassment of US embassy diplomats, which included slashing, hacking and breaking into diplomatic apartments.
Reporting on the issue at length, the ABC's Kirit Radia listed a number of cases when US officials -
none of whom were named
- were targeted by Russia's "aggressive, Soviet-era counterintelligence tactics" of intimidation and harassment "that is believed to be led by Russia's Federal Security Services (FSB), a successor to the Soviet KGB."