As the bombs drop in Gaza and in eastern Ukraine, another siege has been underway in Great Britain. A sustained barrage of a different kind of bombshell continues to rain down on the centre of power in Westminster...
An epidemic of
paedophiles
, or to be more accurate, of '
Pederasts'
, has for decades, freely festered in and around the governing institutions, as well as inside media and entertainment in the UK. Will we ever truly know the full scale and scope of this problem?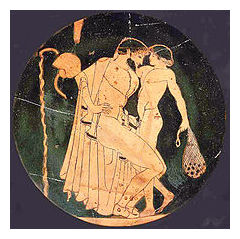 Past proponents of the sordid practice (image, left, of ancient paedohile folklore), like the part publicly-funded
Paedophile Information Exchange
(PIE), were even
paid to lobby for a more relaxed paedophile culture in Britain
, including active lobbying to lower the age of consent to 12 years old. Many of those who were involved or helped to facilitate PIE's presence in Westminster -
are still in government, or quango organisations today.
A culture of denial has taken over the halls of Westminster, with countless MP's and bureaucrats are said to be linked to not only to
Jimmy Savile
, but also other child sex rings that were being operated out of Boys Homes in both London, North Wales and elsewhere. The scale of the problem is immense.
It's doubtful that the public will ever know the true extent of this plague which remains obscured by complicit members of the political elite, the police, the security services and most importantly -
the judiciary
- as well as the mainstream press - as key men and women play their roles in covering for those known to be involved in this wretched and highly organised practice that ruins so many young lives, and is used to blackmail and control so many in the seats of power and influence.