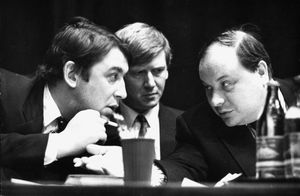 A top Russian politician was given deadly poison just 24 hours after ex-KGB spy Alexander Litvinenko was killed by radiation.
Yegor Gaidar, a pro-Western former Prime Minister, fell dangerously ill while attending a meeting in Ireland.
Mr Gaidar, 50, was rushed to hospital after he vomited blood and lapsed into a coma during the event in County Kildare.
Last night Scotland Yard was searching for any links between the murder of Mr Litvinenko and the poisoning of Mr Gaidar.
One connection between the two men is Andrei Lugovoy, who met Mr Litvinenko in the Millennium Hotel in London's Mayfair on the day he was poisoned.
Ex-KGB major Lugovoy was once Mr Gaidar's head of security but denies any involvement in the Litvinenko poisoning.