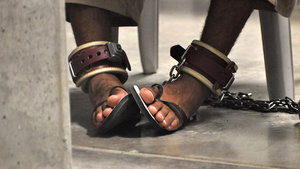 A psychologist considered integral to crafting the CIA's post-9/11 "enhanced interrogation" tactics slammed an unreleased Senate report on CIA torture as inaccurate while defending his role in working with the spy agency amid a volatile era in US history.
In his first
interview
in seven years, James Mitchell told freelance reporter Jason Leopold,
writing
for the Guardian, that he has nothing to apologize for regarding his place in the post-9/11 abuse of prisoners that, as he points out, was legal at the time.
"The people on the ground did the best they could with the way they understood the law at the time,"
he said.
"You can't ask someone to put their life on the line and think and make a decision without the benefit of hindsight and then eviscerate them in the press 10 years later."
According to the Senate Intelligence Committee's vast, unreleased
report
on the CIA's capture and interrogation program, Mitchell, along with another contractor, psychologist Bruce Jessen, is responsible for developing the torture program by
"reverse engineering"
coercive interrogation tactics that US airmen are taught to resist through the military's survival evasion resistance escape (SERE) training.
"The whole Guantánamo issue that came up...all of the abuses that they did in Guantánamo they tried to attribute to me and Bruce,"
Mitchell said.
"It wasn't us. We didn't do any of that stuff. We didn't have a damn thing to do with that. I think that what happened was the Senate armed services committee believed that the agency [CIA] was behind it."
Mitchell denies involvement in abusive practices, as was alleged by a Senate Armed Services Committee report in 2009.
"We didn't have a damn thing to do with that,"
Mitchell said. He blames Pentagon contractors and civilian staff
"who wanted to help out and made some dumb mistakes."