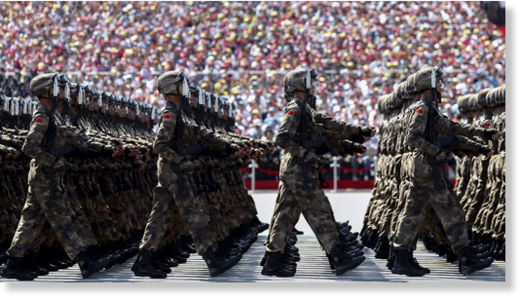 There seems to be a certain policy Western leaders pursue by not attending events that serve to unite the planet - the Sochi Olympics, the European Games in Baku, Moscow May 9 celebrations and now the Chinese WW2 victory parade, says political analyst Dmitry Babich.
China marked the 70th anniversary of the defeat of Japan in World War II by holding an enormous military parade on Thursday. Dozens of foreign leaders, including Russian President Vladimir Putin, attended the event on Beijing's Tiananmen Square.
RT:
This parade is a massive event. Over 80 per cent of the equipment displayed has never been seen before. What are your geopolitical implications and suggestions here?
Dmitry Babich:
I think that the implications are clear - the Western world is missing. They say they don't want to participate in something that they call militaristic. But let's remember, China suffered tremendously during WWII. Three million Chinese soldiers died, and a great number of civilians which we still don't know. And the Japanese aggressors were driven out of China, not by prayers, but by tanks, artillery, soldiers. So I think that Chinese have the right to have a parade on this day. And this is the first parade that they have in 70 years to commemorate this day. Before, parades were only [held to mark] the establishment of People's Republic of China in 1949.