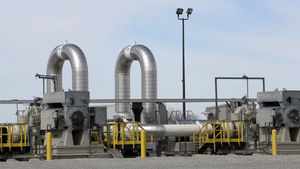 The US House is expected to vote and pass legislation on Friday that would finally sanction the controversial Keystone XL tar sands pipeline, which would move heavy crude oil from Canada to the Gulf of Mexico.
Republican US Rep. Bill Cassidy introduced the House's Keystone XL legislation shortly after his opponent in the still-undecided Louisiana Senate race - incumbent Sen. Mary Landrieu - introduced a measure in the Upper Chamber. Both legislators want to be seen as a key player in pushing the pipeline through Congress ahead of their Dec. 6 runoff election.
Similar pipeline measures have passed the conservative-dominated House. The Lower Chamber will vote on Cassidy's bill on Friday, a congressional aide
told
Reuters early Thursday.
Meanwhile, after a successful midterm election last week, Senate Republicans and Democratic allies like Landrieu are confident that there is enough support for the tar sands pipeline to move a vote on it up from January to as early as Tuesday.
"I believe it is time to act," Landrieu, chairwoman of the Senate Energy Committee, said to her Senate colleagues Wednesday, according to AFP.