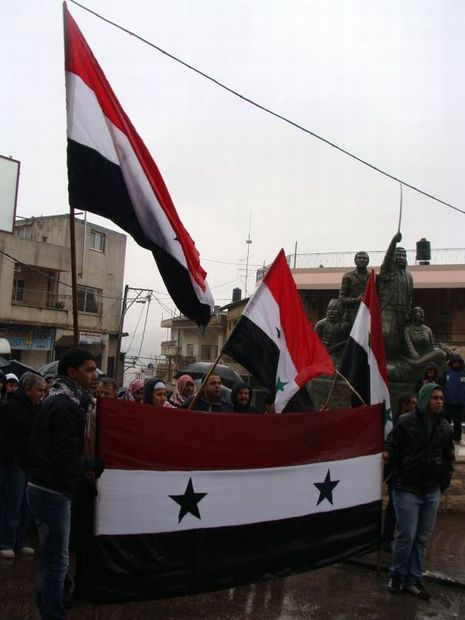 Israel's military said it shot down a Syrian warplane over the Golan Heights on Tuesday, in the first such incident in three decades.
"It was a Russian-made Sukhoi," a military spokesman said.
Israeli military sources said the plane apparently
crossed by accident into Israeli-controlled airspace over the Golan Heights - where fighting from Syria's civil war has spilled over occasionally - and was not on a mission to attack Israeli targets.
Comment:
The
Golan Heights
is not Israeli territory.
Internationally recognized as Syrian territory, the Golan Heights has been occupied and administered by Israel since 1967
Israel is also in violation of the
UN Resolution 497
which states: "the Israeli decision to impose its laws, jurisdiction and administration in the occupied Syrian Golan Heights is null and void and without international legal effect."
Israel is using Golan Heights as a buffer zone
to support anti-government terrorists
.
Israel has been the more discreet of the two, but it has sent the Mossad into Syria and built facilities in the Golan Heights to aid the insurgency.
They had no right whatsoever to shoot down the plane, especially since the plane was carrying out attacks against terrorists, and since military sources themselves claim that there was no threat to Israel.
Reuters twists reality by calling this a civil war. It's not a civil war. These are terrorists backed by US and their allies fighting a democratically elected government and their people.
See also:
The Israeli occupation the world forgot: the Golan Heights
The aircraft was intercepted by a U.S.-manufactured Patriot missile, the spokesman said.
Israel
Radio said the warplane was apparently
carrying out a mission against Syrian rebels battling the forces of President Bashar al-Assad.
Israel's military said it shot down a Syrian drone over the Golan Heights on Aug. 31.

Comment: Israel is helping the terrorists that they along with US, Turkey, Saudi Arabia, Qatar and others helped train, fund and arm to destabilize Syria.

Reuters again tries to deceive the readers by referring to these mercenaries/death squads as rebels.