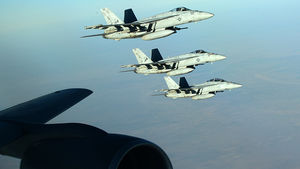 At least 14 Islamic State militants
and five civilians have been killed in airstrikes carried out by the US-led forces overnight in northeast Syria,
according to a monitoring group.
A third night of attacks
targeted IS-controlled
oil refineries
in the east of the country, the location being the major source of income for the radical group, Rami Abdulrahman, the head of the UK-based Syrian Observatory for Human Rights.
The facilities around al Mayadin, al Hasakah, and Abu Kamal were hit, according to the US military, as quoted by Reuters.