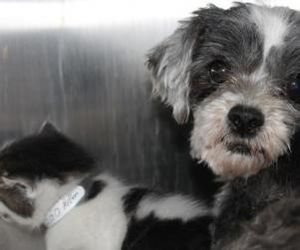 After receiving calls reporting dog cries in the area, a police officer in Anderson, S.C., arrived at the scene to investigate. Upon discovering that the cries came from a lost dog in the North Pointe Creek ravine, Officer Michelle Smith found something even more surprising. The small dog had with her a new friend: a kitten.
It turns out, writes the
Huffington Post
, that the "dog was actually calling for help on behalf of the small kitten it was protecting." Smith
says
that she thinks the dog stayed down in the ravine because it was unable to bring the kitten out with her, and wasn't willing to leave it behind.