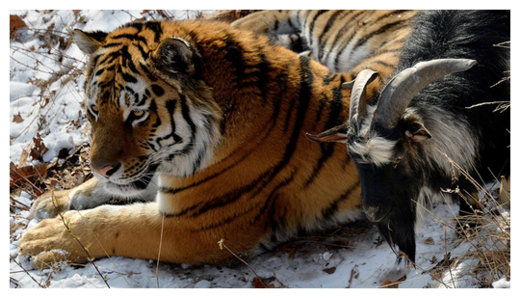 A rare friendship between Amur and Timur, a Siberian tiger and a goat, has raised many eyebrows after the dare-devil goat refused to be the predator's lunch, and commandeered the feline's bed instead.
Fans are calling on the zookeepers to resettle the goat, saying its life is worth saving.
"Please, house the goat separately and let it live in your safari park. Let his story be not only about the compassion the tiger showed towards the brave goat, but about people showing humanism too,"
one activist, Bogdan, wrote on the website of the Far Eastern Safari Park in the Primorsky region.
"Their friendship is highly unusual and phenomenal. Park staff, director, have you got a mite of compassion towards Timur? Can it be placed separately? The goat is sensational! Save it!
" Mikhail, another enthusiast, added.