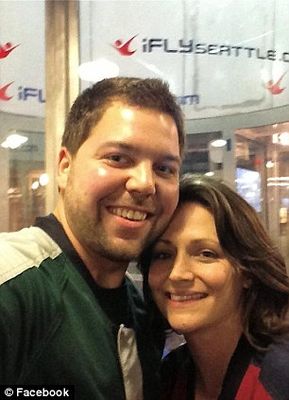 Connor Rabinowitz fell in love at first sight with the sister of the man whose heart was now beating inside his chest.
Lucky to get the donor heart of Kellen Roberts after his health collapsed because of a genetic heart condition, Rabinowitz was bowled over when he met Erin - just over a year after his transplant.
Although he was only 17-years-old at the time and she was 26 when they first met in 2004, the electric chemistry between the pair persisted until they got together in 2010 - with both feeling that deceased Kellen helped them to become lovers.
'We had an instant connection - we both feel that Kellen bought us together,' Connor said to the UK's
Daily Mirror.
Connor was a fit teenager when he began to suffer flu-like symptoms in November of 2004.
One morning he woke in cold sweats to actually see his enlarged heart beating up through his chest and was rushed to hospital.
Doctors told the Minnesota teen that he would need a heart transplant or he would die and so he began the terrifying wait to see if a donor organ would become available.
Sadly for the Roberts family, but luckily for Connor, Kellen passed away after he suffered head injuries during a drunken fight in his home state of South Dakota.