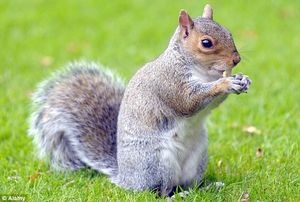 A driver has claimed squirrels 'ate' his new Toyota Aygo after the firm began using eco-friendly plastics to boost its green credentials.
Tony Steeles said
his car was repeatedly attacked by the rodents only days after it was delivered.
'The aerial's been chewed off twice, the oxygen sensor's been damaged and various rubber-like trim parts have been chewed and damaged,' he told motoring magazine Auto Express.
'The car's been back for repairs four or five times.'
As no other vehicles parked nearby have been attacked, Mr Steeles, from Croydon, south London, questioned whether Toyota's use of plant-based plastics might be attracting the hungry squirrels.