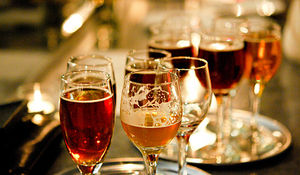 Two Russian multimillionaire argued for the biggest check in one of the most expensive bars of London. After several hours of competition one of them won with a margin of £ 2,5 million
A pair of Russian multi-millionaires apparently went head to head to see who could splash the most cash in a top Mayfair bar - ending up with a combined bar bill of more than £130,000.
Owners of Kitsch London claim the mystery pair spent a small fortune trying to outdo each other in just three hours on the club's opening night.
According to onlookers, two arch rivals, in their 30s, racked up a bar bill that would buy a one-bed flat in the capital in just a few hours - and didn't even drink it all.
The men arrived just before midnight and started ordering large numbers of Dom Perignon and Cristal champagne.
Every time one table would order a set of drinks the other man would add more on his next order to beat the other.
By the end of the night, the bills were an eye-watering £66,778.91 and £64, 279.70 - making a grand total of £131,058.61.
The first man's bill for £66,778.91 included 30 Magnums of Cristal, 20 Bottles of Dom Perignon, 20 Crack Baby shots, six Espresso Martinis, 10 shots of 18-year-old Glenmorangie whiskey, eight bottles of mineral water, seven bottles of 1998 vintage Krug champagne and two magnums of Belvedere vodka.
The other bill for £64,279.70 included 64 bottles of Dom Perignon at £325 each which came to £20,800 on its own. There was also 25 bottles of Crystal champagne, 16 of Armand de Brignac Ace of Spades champagne, 12 bottles of Dom Perignon Rose, 7 Mohitos, 10 bottles of Peroni, 20 cans of Red Bull, six Bellinis, six bottles of water, two bottle of Chivas 18-year-old whiskey, six bottles of Krug Grande Cuvee, and eight bottles of Belle Epoque Rose.