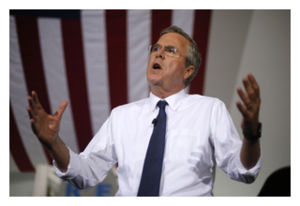 Des Moines — Hoping to stem the fallout from his comment in the aftermath of the Oregon rampage that "stuff happens," former Florida governor Jeb Bush said today that as President he would declare an ambitious "war on stuff."
"Make no mistake: I will not sit idly by when stuff happens if there's stuff we can do about that stuff," Bush told supporters in Iowa. "In a Bush Administration there will be a zero-tolerance policy on stuff."
Pressed for specifics, Bush said that, in addition to preventing stuff from happening, he would also "work tirelessly to stop junk."
"If I see junk happening that will harm the American people, I will not put up with that junk," he said, adding for emphasis, "or stuff."
Citing an example, he said that as President he would demand that Russian President Putin stop "the junk he is doing in Syria."
"I would be like, 'If you think you can do that kind of junk and we're just going to lay back and not do stuff about it, you are sorely mistaken about that stuff,' " he said.
Striking a resolute tone at the conclusion of his speech, Bush told his supporters: "Read my lips: no junk stuff."