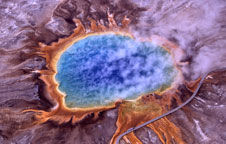 A University of Otago researcher is part of an international team that has discovered that horizontal gene transfer (HGT) played a surprisingly large role in the evolution of primitive microbes known as archaea.
HGT, which involves acquiring genetic material from another unrelated organism instead of inheriting it from a direct ancestor, is most known today for its role in antibiotic resistance and its use in genetic modification technologies.
The team's findings appear this week in the prestigious journal
Nature
and show that archaea have swiped dozens, and sometimes hundreds, of bacterial genes on numerous occasions. Their research shows that these
gene transfers are a far more important mechanism of microbial evolution than had been previously thought
.
Archaea, which live in environments ranging from boiling geysers to the human navel, are single-celled microbes representing one of the three domains of life. The other two are bacteria and eukaryotes (organisms whose cells have a nucleus, such as plants and animals).