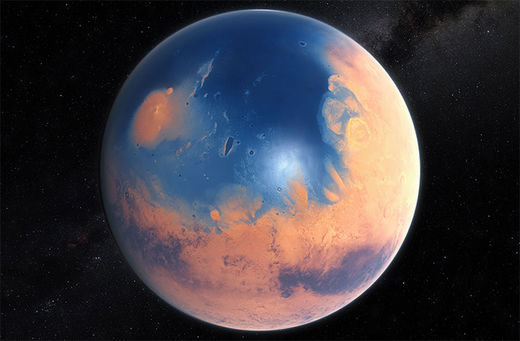 Mars was once a small, wet and blue world, but over the past 4 billion years, Mars dried up and became the red dust bowl we know today.
But how much water did Mars possess? According to research published in the journal
Science
,
the Martian northern hemisphere was likely covered in an ocean, covering a region of the approximate area as Earth's Atlantic Ocean, plunging, in some places, to 1.6 kilometers (1 mile) deep
.
"Our study provides a solid estimate of how much water Mars once had,
by determining how much water was lost to space
," said Geronimo Villanueva, of NASA's Goddard Space Flight Center in Greenbelt, Maryland, and lead author of the new paper,
in an ESO news release
. "With this work, we can better understand the history of water on Mars."
Over a 6-year period, Villanueva and his team used the ESO's Very Large Telescope (in Chile) and instruments at the W. M. Keck Observatory and the NASA Infrared Telescope Facility (both on Mauna Kea in Hawaii) to study the distribution of water molecules in the Martian atmosphere. By building a comprehensive map of water distribution and seasonal changes, they were able to arrive at this startling conclusion.