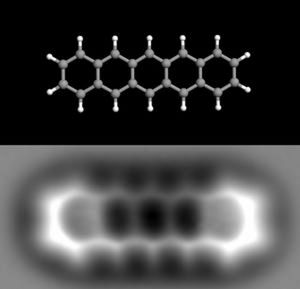 Researchers used a technique known as Kelvin probe force spectroscopy
It used fine probe to measure the minute electric forces around atoms
This allowed them to unpick what the bonds between atoms look like
Scientists usually rely upon theoretical models to understand these bonds
They are the invisible glue that hold molecules, the world around us and our own bodies together. Now researchers have managed to see the electron bonds which bind atoms to each other for the first time.This chemical bond - known as a covalent bond - forms as the electrons which orbit around each atom's nucleus are shared between two atoms at they come together.
Scientists have managed to visualise the electron clouds that form covalent chemical bonds between atoms to hold molecules together. Two hydrocarbon molecules are shown in the image above with the position of the atom nuclei superimposed on top of the image
Until now it has only been possible to guess at what these structures looked like in molecules using theoretical models.
But a group of researchers have applied a pioneering technique, which uses an incredibly precise probe, to visualise the bonds between atoms.The technique allowed the scientists to probe the charge of an individual atom and distinguish different types of chemical bonds.
As not all electrons are shared equally between atoms, it can often result in them developing electrical charges known as polarity.
The technique, which used a metal probe with a point so fine it is tipped with a single molecule of carbon monoxide, can observe subtle imbalances in the bond between atoms.
Writing in the journal
Physical Review Letters
, Dr Pavel Jelinek, a physicist who led the research at the Institute of Physics of the Czech Academy of Science, said: 'It enables one to obtain charge-related maps at even closer tip-sample distances, where the lateral resolution is further enhanced.
'This enhanced resolution allows one to resolve contrast variations along individual polar bonds.'
Working with Professor Jascha Repp, a physicist at the University of Regensburg, Dr Jalinek and his team built on a technique used in 2009 to make out individual atoms in a molecule.