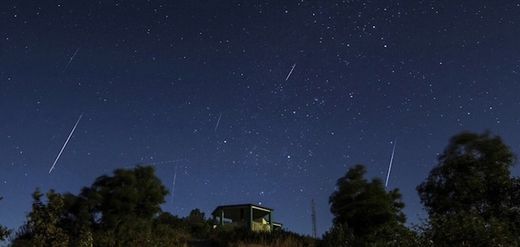 2015 is looking set to be a good year for meteor showing watching — with good peak-rates and nice dark skies being likely for most of the major showers of the year.
As a result I've compiled the below list outlining the best dates and times for watching the various major meteor showers of the year — the Geminids, Perseids, Draconids, Taurids, Lyrids, Orionids, Leonids, and Aquarids. As well as creating a handy inforgraphic (posted directly below). Enjoy.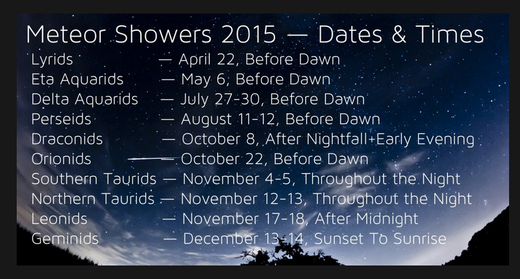 Lyrids — April 22, 2015, Before Dawn
The Lyrid meteor shower is often one of the better meteor showers of the year — with typical years seeing roughly 10-20 meteors-per-hour at the peak. Outburst years that see that number climb as high as 100+ meteors-an-hour aren't uncommon though — so something to keep in mind The Lyrid meteors themselves are often quite striking as well — being very bright usually, and often leaving trails behind.
The radiant point where the meteors seem to originate from is right next to the bright star
Vega
in the constellation of
Lyra
— which rises in the northeast portion of the sky during the month of April sometime after ~10pm. The meteor shower typically lasts from around April 16 until April 25.
In 2015 the morning that'll see the meteor shower peak is the morning of April 22 — though either of the days/nights surrounding that date should put on a good show as well. Owing to the fact that the Moon will be setting in the early-evening hours around the time of the peak, 2015 should be a pretty good year for the Lyrids — with nice dark skies expected.