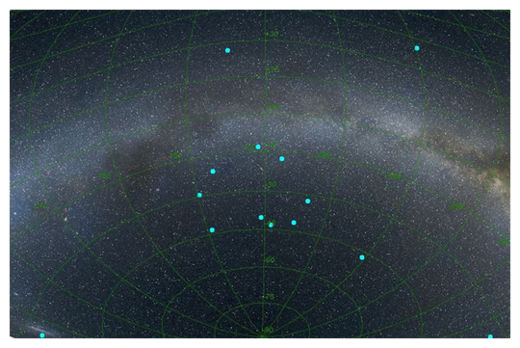 Astronomers are constantly uncovering the "
most distant
," "
most massive
" or "
most energetic
" objects in our universe, but today,
researchers have announced the discovery of a truly monstrous structure consisting of a ring of galaxies around 5 billion light-years across.
The galactic ring, which was revealed by 9 gamma-ray bursts (GRBs), is located 7 billion light-years away and spans an area of the sky more than 70 times the diameter of a full moon.
GRBs are thought to be detonated when a massive star reaches the end of its life. As the star implodes after running out of fuel, a black hole is formed and vast quantities of energy are blasted in collimated beams. Should Earth be aligned with these beams, an incredibly luminous signal can be observed and these beacons can be used to precisely gauge the distance to the GRB and the location of the galaxy that hosts it.
The GRBs are all cataloged in the
Gamma Ray Burst Online Index
, which precisely records each GRB distance and location, like pins on a cosmic map.
Astronomers believe these GRBs (and therefore the galaxies they inhabit) are somehow associated as all 9 are located at a similar distance from Earth. According to its discoverers, there's a 1 in 20,000 probability of the GRBs being in this distribution by chance —
in other words, they are very likely associated with the same structure, a structure that, according to cosmological models, should not exist.