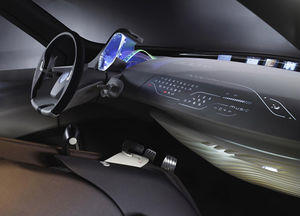 Nothing's driving the acquisition of data faster than, well,
driving
. As new technology makes its way into vehicles, so does the
apparent desire
to harvest information about the vehicle itself.
Between the
outside harvesting
(automatic plate readers that gather plate/location data, as well as photos of vehicle occupants) and the "inside" transmissions, there's very little any number of unknown entities won't know about a person's driving habits
. And that's not even including what's transmitted and collected by drivers' omnipresent smartphones and their installed apps.
Sen. Edward Markey has expressed some alarm
at the amount of data being collected (and distributed) by vehicle manufacturers. His office has produced a report [
pdf link
] showing that while many manufacturers are involved in collecting data, very few of them seem concerned about the attendant risks. Even worse, many respondents to his office's questionnaire seem to show very little understanding of the underlying technology and most have not made an effort to fully inform customers as to how much is being collected or how it's being distributed.
Drivers of today's connected cars aren't going to like the report's findings.
Nearly 100% of cars on the market include wireless technologies that could pose vulnerabilities to hacking or privacy intrusions.