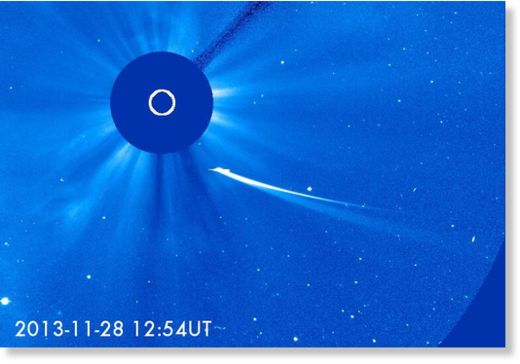 I always find that writing the first line in a blog post is the hardest, and this has never been truer that now as I struggle to decide where I should even begin. My
@SungrazerComets Twitter feed
, and my email accounts, are all blowing up with questions about comet ISON. Many of them have already been answered, and many of them have unsatisfying answers, but I'll do my best. First, a little personal note...
All of us in the CIOC have been overwhelmed by the positive feedback we have received from the public through both our website, and our emails and, for me, my Twitter feed. I truly wish I could respond to every message, but I simply can't, so instead say to every single one of you who have sent us messages of support, encouragement and thanks, or simply visited out site and read our thoughts and information... we
THANK YOU!
Truly and sincerely! Astronomy and science is our passion, and we are simply delighted and honored to have had such a broad and receptive audience to share that passion with. On the past couple of nights, as exhaustion has started to get the better of me, the supportive messages have definitely kept me going. [*
sniffle
*]
OK, back to more serious but still awesome stuff, and before I get to those questions I hinted at earlier, I should probably share with you a couple of new movies!
I'm sure you've all seen the LASCO movies by now -
everyone is talking about them
. But these movies are from STEREO and are pretty fresh, as we only just got back the high-resolution data.
For the 2 animated images, click
HERE
and
HERE
.
WARNING
: These are big animated gif and might take a minute to load... please be patient as they're totally worth it!