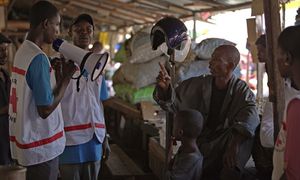 In 2002, scientists writing in a leading American medical journal discussed the possibility that the
Ebola
virus could be used in a biochemical weapon. It would be technically difficult and unlikely to cause mass destruction because those infected quickly die and the virus is not as transmissible as many assume. But, the scientists warned, if it could be done, there would be no protection. No vaccine or drug treatment exists.
They were writing in the
Journal of the American Medical Association
in the wake of 9/11 and the subsequent anthrax attacks in New York. Since then, fear of viruses raining out of US skies has diminished - and so has any sense of urgency over the development of vaccines or treatment for a disease that manifests itself in unpredictable outbreaks and kills relatively small numbers of people in remote parts of
Africa
.
Neglected tropical diseases, of which Ebola is one, become visible in the west only when they appear to threaten it.
Ebola has had more attention than many, probably because of the dramatic nature of the disease and the need for full body suits and face masks for those caring for its victims. The names of other such diseases - the parasitic leishmaniasis and lymphatic filariasis, for example - hardly trip off the tongue in London or San Francisco.
Yet Ebola is not a priority for the not-for-profit Drugs for Neglected Diseases Initiative, which works with the World Health Organisation and others to incentivise and encourage pharmaceutical companies to research and develop treatments. It affects far fewer people than parasitic diseases, and the outbreaks, although appalling, are sporadic.