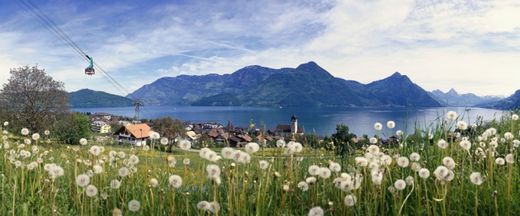 The land of chocolate and clocks could soon be known for something quite different: tsunamis. Authorities in Nidwalden, a canton in landlocked Switzerland, are factoring the risk of a tsunami in Lake Lucerne into their hazard plans. It is the first official acknowledgement of such a threat in Europe's Alpine region - and comes in step with findings that the risk of tsunamis in the area, which is home to around 13 million people, is much higher than previously thought.
Most tsunamis occur in the ocean but they can also occur in enclosed bodies of water, when underwater sediments shift as a result of an earthquake, falling rocks or underlying instability. The hazard that such events pose is outsized. "The same source placed inside a lake can have a bigger impact than along the coast of an open ocean," says Hermann Fritz, who studies tsunamis at the Georgia Institute of Technology in Atlanta. A tsunami at Lake Yanawayin in Peru in 1971 is thought to have killed 400 - 600 people.
Although not as seismically active as Peru or Japan, the Alps do experience earthquakes from time to time: one as strong as magnitude 6 occurs roughly every millennium around Lake Lucerne, for instance.
The issue of tsunamis in Alpine lakes grabbed the spotlight two years ago when limn­ogeologist Katrina Kremer, then at the University of Geneva, Switzerland, and her colleagues reported
evidence for a major tsunami in Lake Geneva in ad 563 that had wiped out communities living on its shores
1
.