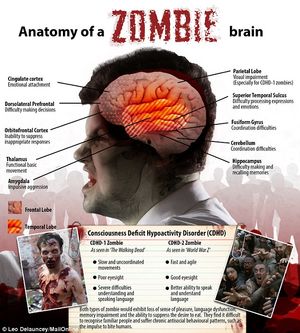 Neuroscientists from Carnegie Mellon University, Pennsylvania, and the University of California, San Diego, analysed zombie behaviour in films
They worked out which sections of the brain would be damaged to trigger zombie behaviours, such as a lack of coordination and thirst for blood
Scientists came up with a hypothetical condition, dubbed CDHD
Lumbering zombies, as seen in The Walking Dead are diagnosed with CDHD-1, while faster ones, as seen in World War Z would have CDHD-2
Damage to fusifrom gyrus explains zombies' inability to recognise faces
Inability to suppress inappropriate responses, such as the desire to eat people would be due to damage in the orbitofrontal cortex, they said
Their lumbering, menacing gait and insatiable hunger for flesh strikes fear into even the most seasoned horror film fan.
Now, two neuroscientists have analysed the behaviour of the walking dead to reveal the inner workings of their minds and defined a comprehensive diagnosis of 'zombiism'.
And with this knowledge they have even hatched a plan for how to survive a zombie apocalypse.