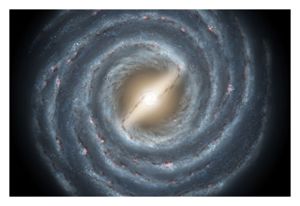 Astronomers are baffled by the discovery of a mysterious fog of high energy X-rays blasting out of the centre of our galaxy.
The discovery, reported in the journal
Nature
, challenges our understanding of the physics taking place in the galactic centre.
The astronomers speculate the mysterious cloud could be generated by a vast graveyard of thousands of stellar remnants clustered in the shadow of the supermassive black hole.
But the source still eludes them.
"
This is something that has never been seen before,
I only wish we knew what it is that we discovered," says one of the study's authors Professor Chuck Hailey of the
University of Columbia
in New York.
"We have quite a few theories of what it could be, but none of them fits the facts, so at this point it's something of a mystery."
The international team of scientists discovered the huge X-ray cloud during observations using the NuSTAR X-ray Observatory to study a region 30 light-years wide around the supermassive black hole at the centre of the Milky Way galaxy.
"There really was no evidence to suggest that there should be this diffused foggy type of high energy X-rays in the region around the central black hole," says Hailey.