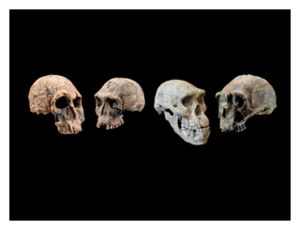 Three different human species may have walked the Earth at the dawn of the human lineage, dividing up their environment in slightly different ways, and the ancestors of modern humans may have survived because oftraits such as large brains that helped them adapt to unstable, shifting landscapes, researchers say.
Moreover, the
defining features of the human lineage
may not have evolved together gradually at once, but piecemeal in stages over millions of years, scientists added.
Modern humans,
Homo sapiens
, are the only living members of the human lineage, the genus
Homo,
which is thought to have arisen in Africa more than 2 million years ago. Many now-extinct human species were thought to once roam the planet, such as
Homo erectus
,
the first to regularly keep the tools it made.
Many traits unique to the human lineage were long thought to have originated between 2.4 million and 1.8 million years ago in Africa. These include a large brain and body, long legs, reduced differences between the sexes, increased meat-eating, prolonged maturation periods, increased social cooperation and tool making.
However, recent fossil evidence suggests these traits did not arise together as a single package. Instead,
key human features evolved piecemeal at separate times
, with some emerging substantially earlier and some later than previously thought.
For instance, recent findings suggest long legs, a feature once considered unique to humans, developed in earlier ancestors, the genus
Australopithecus,
between 3 million and 4 million years ago, and stone tools about 2.6 million years old may predate the origin of
Homo
.