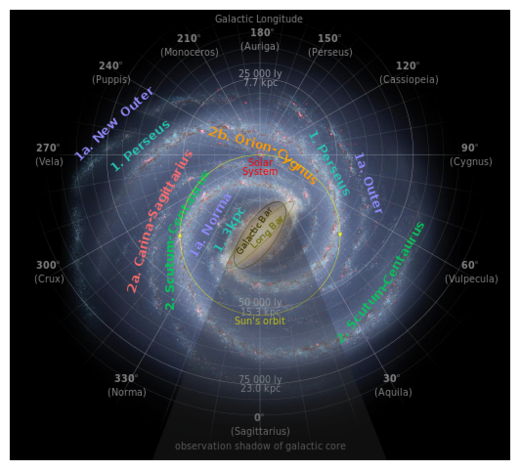 Given that our Solar System sits inside the Milky Way Galaxy, getting a clear picture of what it looks like as a whole can be quite tricky. In fact, it was not until 1852 that astronomer Stephen Alexander first postulated that the galaxy was spiral in shape. And since that time, numerous discoveries have come along that have altered how we picture it.
For decades astronomers have thought the Milky Way consists of four arms - made up of stars and clouds of star-forming gas - that extend outwards in a spiral fashion. Then in 2008, data from the Spitzer Space Telescope seemed to indicate that
our Milky Way has just two arms, but a larger central bar.
But now, according to a team of astronomers from China, one of our galaxy's arms may stretch farther than previously thought, reaching all the way around the galaxy.
This arm is known as Scutum - Centaurus, which emanates from one end of the Milky Way bar, passes between us and Galactic Center, and extends to the other side of the galaxy. For many decades, it was believed that was where this arm terminated.