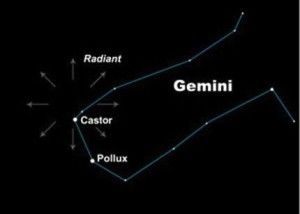 The peak night of the 2014 Geminid meteor shower will
probably occur on the night of December 13 (morning of December 14). The night before (December 12-13) may offer a decent sprinkling of meteors as well.
Geminid meteors tend to be few and far between at early evening, but intensify in number as evening deepens into late night. A last quarter moon will rise around midnight, but Geminid meteors are bright!
This shower favors Earth's Northern Hemisphere, but it's visible from the Southern Hemisphere, too
. If you're at a temperate latitude in the Southern Hemisphere, try waiting a little later - until close to midnight - to see the beginning of the Geminid shower.