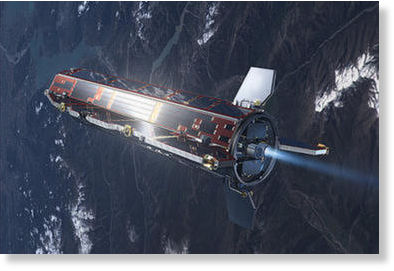 The one-ton European GOCE satellite, the first orbital piece of technology to register (via infrasound) an earthquake back on earth, is out of xenon fuel and now a satellite falling.
US and European space scientists continue to work to predict the potential terranean fallout range from a snazzy one-ton European satellite called the GOCE that has sputtered out of fuel and is now orbiting the earth in ever tighter and faster circles, unable to resist the very gravity it has been studying.
Scientists believe the pickup-truck-sized satellite, formally known as the Gravity field and steady-state Ocean Circulation Explorer, will finally enter the Earth's atmosphere and break up into dozens of pieces Sunday night or Monday.
"Current predictions, with orbit data from [Saturday morning], indicate a reentry during the night of Nov. 10/Nov. 11, with an uncertainty time window that still spans about 1 day," writes Heiner Klinkrad of the European Space Agency's Space Debris Office, in an email to the Monitor. "The spacecraft is expected ... to spread a number of fragments along a ground impact swath of almost 1,000 kilometers in length."
The chances of being hit by such space junk , however, is infinitesimal, Mr. Klinkrad points out, as the likelihood of being hit by lightning is 65,000 times greater than the possibility of being struck by GOCE debris. Still: Up to 500 pounds of total remaining mass, broken up into perhaps 50 pieces, could be driven into the ground somewhere on the planet.