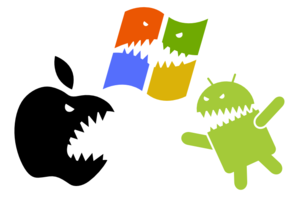 If you write about or work in tech as I do, you hear a lot about progress. It's kind of our mantra. We're making the world a better place. We're making progress.
But there are also forces opposed to progress. You could call this the anti-progress movement. Ironically, some of the biggest contributors to this movement are tech companies.
One example: Comcast has been
donating money to defeat the mayor of Seattle
, because he's been a proponent of installing high-speed fiber at lower costs than what incumbent providers charge. That's anti-progress. Comcast is actually spending money (that it got from customers) to
hurt
customers.
But a better and far bigger example of anti-progress comes from Apple and Microsoft, which have joined forces and
invested billions of dollars to create a shell company
. The sole purpose of this venture is to sue Google and derail its Android operating system.
Sneaky? Yes. Not to mention selfish, ignoble, disgusting, cowardly, craven, and anti-competitive. But worst of all, it's anti-progress.