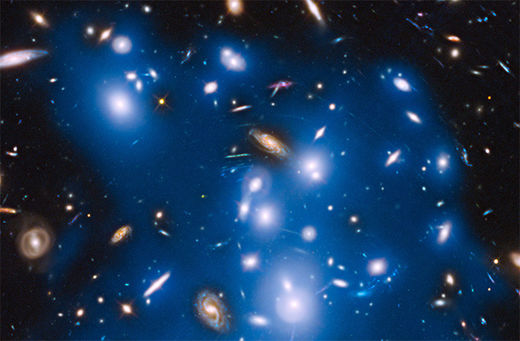 See that blue glow? That's the ghostly remains of once-dazzling galaxies that have since been blended in a Cosmic grinder. It may sound like a gruesome
Hallowe'en
space slasher movie, but this is actually a stunning portrait of galactic evolution as captured by the Hubble Space Telescope.
Abell 2744, or "Pandora's Cluster," consists of 500 galaxies over 4 billion light-years away from Earth. The stunning array of galaxies of all shapes and sizes are a sight to behold. But in this case, scientists studying this Hubble observation aren't admiring the beautiful elegance of the spiral galaxies or arcs of light bent by gravitational lensing, they're focused on the long-lost stars cast adrift in intergalactic space, released like tiny sparkles after an immense galactic smashup that occurred billions of years ago.
The blue glow has been detected by Hubble's sensitive optics and represent cosmic forensic evidence of the galactic violence - it is caused by countless billions of stars that are no longer gravitationally bound to their galaxies, forever drifting alone.