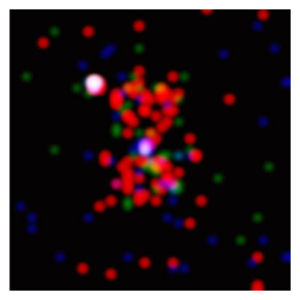 Radical new research is attempting to characterize the properties of a
fifth force
that disrupts the predictions general relativity makes outside our own galaxy, on cosmic-length scales. University of Pennsylvania astrophysicist Bhuvnesh Jain, says the nature of gravity is the question of a lifetime. As scientists have been able to see farther and deeper into the universe, the
laws of gravity
have been revealed to be under the influence of an unexplained force. Two branches of theories have sprung up, each trying to fill its gaps in a different way.
One branch - dark energy - suggests that the vacuum of space has an energy associated with it and that energy causes the observed acceleration. The other falls under the umbrella of "scalar-tensor" gravity theories, which effectively posits a fifth force (beyond gravity, electromagnetism and the strong and weak nuclear forces) that alters gravity on cosmologically large scales.
"These two possibilities are both radical in their own way," Jain said. "One is saying that general relativity is correct, but we have this strange new form of energy. The other is saying we don't have a new form of energy, but gravity is not described by general relativity everywhere."
Jain's research is focused on the latter possibility; he is attempting to characterize the properties of this fifth force that disrupts the predictions general relativity makes outside our own galaxy, on cosmic length scales.
By innovatively analyzing a well-studied class of stars in nearby galaxies, Jain and his colleagues - Vinu Vikram, Anna Cabre and Joseph Clampitt at Penn and Jeremy Sakstein at the University of Cambridge - have produced new findings that narrow down the possibilities of what this force could be. Their findings, published on the
Arxiv
, are a vindication of Einstein's theory of gravity.