The government is testing drugs with severe side effects like psychosis and suicidal behavior on hundreds of military veterans, using small cash payments to attract patients into medical experiments that often target distressed soldiers returning from Iraq and Afghanistan, a
Washington Times/ABC News
investigation has found.
In one such experiment involving the controversial anti-smoking drug Chantix, the Department of Veterans Affairs (VA) took three months to alert its patients about severe mental side effects. The warning did not arrive until after one of the veterans taking the drug had suffered a psychotic episode that ended in a near lethal confrontation with police.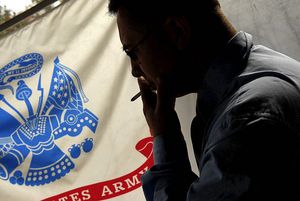 ©Washington Times
Iraq war veteran James Elliott smokes on his porch in Silver Spring as he talks about his experiences in war and dealing with post-traumatic stress disorder. Mr. Elliott suffered a psychotic episode while taking the anti-smoking drug Chantix.