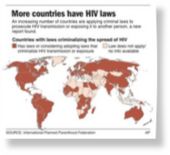 An increasing number of countries worldwide are making spreading HIV a crime, according to a new report from the International Planned Parenthood Federation.
Health officials fear the trend could undermine gains made in fighting the AIDS pandemic and provoke a surge in cases. Globally, about 33 million people are thought to have HIV and nearly 3 million people are newly infected every year.
"If the law is applied badly, this could set us back and do incredible damage," said Paul de Lay, an AIDS expert at UNAIDS, who was not involved in the report.