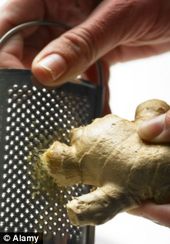 Long hailed as a remedy for motion and morning sickness, ginger has now been proven to reduce nausea in patients undergoing chemotherapy.
Nausea is a common side effect of chemotherapy, affecting about 70 per cent of patients, and many are given anti-nausea drugs to combat it. However, a study by a New York university found that small doses of ginger alongside these drugs can reduce queasiness by up to 40 per cent.
Although researchers cannot pinpoint why ginger - the stem of the plant
Zingiber officinale
- reduces nausea, one theory is that its compounds inhibit the release of a chemical that causes vomiting.