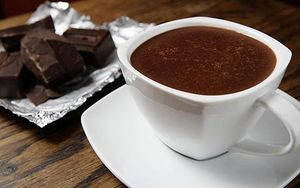 Eating chocolate could improve the brain's ability to do maths, a new study suggests
.
Mental arithmetic became easier after volunteers had been given large amounts of compounds found in chocolate, called flavanols, in a hot cocoa drink.
They were also less likely to feel tired or mentally drained, the findings, presented at the British Psychological Society annual conference in Brighton show.
Prof David Kennedy, director of the brain, performance and nutrition research centre at Northumbria University, and a co-author of the study, said that chocolate could be beneficial for mentally challenging tasks.