The Mexican mining company Autlán maintains that there is no evidence that manganese causes any harm to human health. But in the central state of Hidalgo, where the metal is mined, adults shake as if they suffered from Parkinson's disease and children's mental development lags behind normal.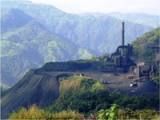 "The company takes a sceptical position (about studies that show the effects of manganese poisoning); it does not believe that it is causing the problems or that it is to blame," but the evidence is irrefutable, Horacio Riojas, from the Population Health Research Centre of the government's National Public Health Institute (INSP), told Tierramérica.
Riojas said the findings are alarming. Sixty percent of the adults who live near the mines present neurological problems and trembling similar to the effects of Parkinson's disease. In the case of the children near the mines, it was found that their intellectual and learning abilities are 20 percent lower than the comparable group that does not live near any mines.
There is no doubt that the exposure to manganese is the cause of the problems, he said.