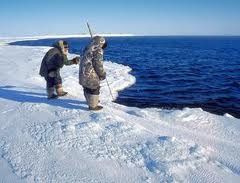 This article (
The Inuit Paradox
by Patricia Gadsby and Leon Steele) presents a conundrum for many of us.
The Inuit demonstrate that humans can survive in good health, without diabetes, heart disease, tooth decay or constipation, on a 70% (saturated) fat carnivorous diet. Without oranges, where do they get vitamin C? Without grains, where do they get vitamin E? Without fiber how can they stay "regular"? How do they maintain their probiotics? Eating so much saturated fat, why didn't traditional Inuit endure chronic illnesses Americans believe come from consuming saturated fats?
While Atkins was mostly correct in his assertion that the human body can maintain normal weight and reasonable health on a very low carbohydrate, carnivorous diet, the Inuit show that he left out a few details. He relied on muscle meat rather than organ meats, overlooked probiotics, did not include bone broth or bone-based foods for minerals and other invaluable elements, and more. This could explain why dietary supplements are required for an Atkins diet, and may also explain why some people do not do well on this diet. In his defense, however, for cultural reasons Americans are unlikely to embrace an Inuit-style diet.
To live successfully on a carnivorous diet we must eat the organs (liver, e.g. - most of us don't eat liver anymore - offal is a source of vitamins and minerals, including B vitamins, and vitamin C), eat raw meat (a source of Vitamin C) and fat, make use of the bones and skin ("snout to tail" dining) and promote fermentation (rotted "stink fish", one Inuit source of probiotics). This is what the Inuit did. Since most of us eat an omnivorous diet sans organ meats (a.k.a. offal, considered "awful" by most Americans) but full of muscle meats, American omnivores are best served by eating nutrient-dense vegetables along with animal foods (meats, fish, eggs, poultry, our ancient B12 source). A clean source of raw animal foods would help us optimize our health. We need properly prepared bone broth (soup stock) to prevent mineral deficiencies, replenish and repair bones and joints, promote regularity and restful sleep, keep skin youthful, etc. (watch any film from the 1940s and notice the popularity of traditional home-made bone-based soups that take a day or two to properly prepare). We need natural fats for energy and organ support. Sadly, and to our peril, most American omnivores no longer value these dietary ways but depend on supplements and government regulated food fortification to make up for what we lack.