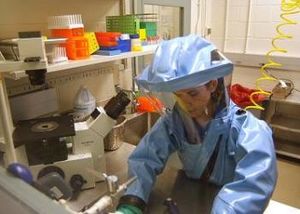 A recent column, published by the University of Minnesota's Center for Infectious Disease Research and Policy, or
CIDRAP
,
warns that it might be possible for the Ebola virus to be transmitted through exhaled breath.
Minneapolis news station
KARE
reports the column, co-authored by University of Illinois-Chicago professors Dr. Lisa Brosseau and Dr. Rachael Jones, argues that current safety protocols for healthcare workers may not adequately protect them.
Brousseau claims in the column that she believes "
there is scientific and epidemiologic evidence that Ebola virus has the potential to be transmitted via infectious aerosol particles both near and at a distance from infected patients."
That means healthcare workers, caring for Ebola victims, should be wearing powered air-purifying respirators rather than simple surgical masks, Brousseau argues.