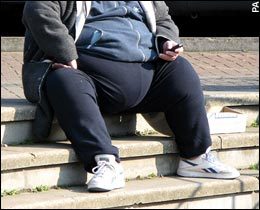 Obesity has reached epidemic proportions. People are fat and getting fatter, with no end in sight. Even kids are fat these days. Right? We've all seen the picture of the McDonald's-eating toddler and heard the dire nightly news reports about growing obesity narrating back shots of anonymous overweight families trudging along with wedgies and short shorts. But just as the public at large bemoans the pervasiveness of the obesity epidemic, many critics are claiming the opposite: that the
obesity epidemic
is exaggerated and overinflated;
that the "overweight" and "obese" categories are ploys by insurance companies to get more money from policy holders;
that obesity in and of itself isn't actually a health hazard. Some, like Paul Campos, are even
arguing
that America's weight problem is "imaginary."
Could this be? Am I tilting at windmills when I decry our collective weight problem?
Let's look at the claims being made.
First, there's the claim that the definition of obesity is arbitrary and the obesity epidemic only arose because our definition of obesity changed to include more people.
According to this argument, people aren't necessarily any heavier, but what was previously assumed to be a healthy weight has now been deemed an unhealthy weight by statistical trickery. In his 2005 book,
Fat Politics
, J. Eric Oliver (
PDF
) tells the story of Louis Dublin, a statistician for MetLife insurance in the 1940s who analyzed the connection between age, bodyweight, and death rate among MetLife subscribers.
Dublin found that thinner people generally lived longer and those who maintained close to the bodyweight of an average 25 year-old lived the longest
. He published a new weight chart that shifted the healthy weight threshold back, effectively making millions of Americans obese or overweight overnight. And even though he did this to predict who would die earliest and determine who should pay the most for insurance policies, not to uncover a public health threat, it caught on and formed the basis for government policy regarding obesity and health that continues today.