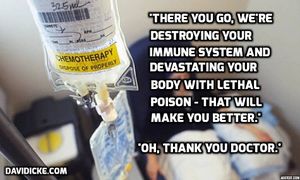 Medical experts are saying that the biggest flaw of Big Pharma today is a high percentage of ineffective products being sold without previous clinical trials. This is particularly true when anti-cancer medications are concerned.
The sad fact is that Big Pharma prefers to invest in advertising and bribing officials instead of attempting to make their products truly effective. Today pharmaceutical manufacturing is handsomely funded by politicians and organized crime, since it's has become one of the most efficient money laundering schemes and has already corrupted a large number of US and EU officials.
Biotech expert C. Glenn Begley, the former Vice-President and Global Head of Hematology and Oncology Research at Amgen - one of the largest cancer research centers in the US, is now a senior vice president in a private biotech company TetraLogic. In his article published in Nature magazine back in March 2012, Glenn stated that a series of tests conducted under his supervision
proved that out of 53
anti-cancer drugs
that had been developed by "respected laboratories," a total of 47 showed no noticeable improvements in patients' health conditions (which amounts to 88%).