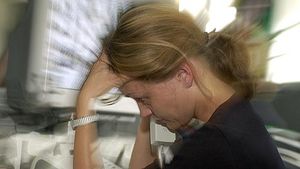 Women under chronic stress have significantly lower levels of klotho, a hormone that regulates aging and enhances cognition, researchers at UC San Francisco have found in a study comparing mothers of children on the autism spectrum to low-stress controls.
The researchers found that the women in their study with
clinically significant depressive symptoms had even lower levels of klotho in their blood than those who were under stress but not experiencing such symptoms.
The study, published June 16, in
Translational Psychiatry
, is the first to show a relationship between psychological influences and klotho, which performs a wide variety of functions in the body.
"Our findings suggest that klotho, which we now know is very important to health, could be a link between chronic stress and premature disease and death,
" said lead author, Aric Prather, PhD, an assistant professor of psychiatry at UCSF. "Since our study is observational, we cannot say that chronic stress directly caused lower klotho levels, but the new connection opens avenues of research that converge upon aging, mental health, and age-related diseases."