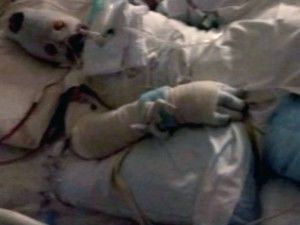 A recent ABC news item featured an unfortunate tragedy of a women hospitalized in an intensive care burn unit with Stevens-Johnson syndrome after taking a pharmaceutical antibiotic. This "rare" syndrome is gruesome.
She was placed into intensive care of a burn unit in the University of California Irvine's burn unit, as 70 percent of her body is burning "from the inside out".
Dr. Joshua Zeichner, a dermatology professor at the Mount Sinai Hospital in Manhattan commented to ABC on this issue. "You're not truly burned, but what happens is you have compromised the skin barrier function." In other words, the epidermis separates from the dermis and 2nd and 3rd degree burns and blisters manifest painfully.