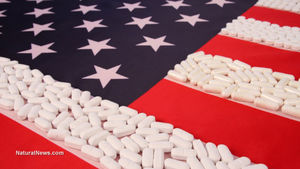 Many Americans would argue that the U.S. is the greatest nation on Earth, a beacon of freedom and hope for the rest of the world to emulate. But when it comes to mental and physical quality of life here in the States, America appears to rank near the bottom, as evidenced by the nation's massive and growing addiction to pharmaceutical drugs and painkillers.
Though it often isn't talked about, Americans consume most of the pharmaceutical drugs produced
for the entire world
, even though we represent a mere 5 percent of the global population. And when it comes to painkillers, Americans consume a staggering 80 percent of the global supply, with doctors prescribing more than 259 million scripts for painkillers annually.