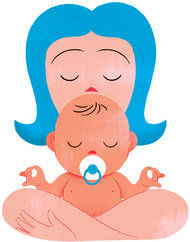 New mothers quickly learn that babies quiet down when carried and rocked. Now researchers say that this calming response is actually a coordinated set of reactions, involving the nervous, motor and cardiac systems.
Dr.
Kumi O. Kuroda
, a neurobiologist at the Riken Brain Science Institute in Japan, led a team that used electrocardiogram measurements to monitor the heart rates of babies and mice after they were picked up and carried. Their heart rates slowed almost immediately.
"It's very difficult for adults to relax so quickly," said Dr. Kuroda,
whose study appears in the journal Current Biology
. "I think it's specific to infant physiology."
In the case of the mouse pups, it took only one second for the heart rate to drop. In human babies, it took about three seconds.