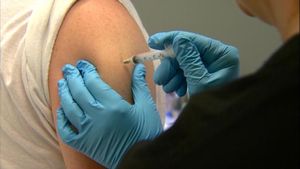 An attempt to improve vaccination rates in Colorado failed Tuesday in the state Senate.
Instead, the Senate approved a bill to enhance vaccine education efforts - a watered-down version of a measure that would have made it harder for parents to opt out of vaccinating their children. Colorado is among a handful of states that allow parents to sign "personal belief" exemptions from required immunizations, and last school year Colorado had the 6th-highest rate of immunization exemption in the U.S. at 4.3 percent.
The bill would have required parents invoking the "personal belief" exemption to watch a video about vaccinations or get doctor clearance for taking the exemption.
Democratic sponsors said the bill stood no chance of passage in the face of strong opposition from some in both parties. They called the watered-down bill the only viable option.
"At this point our decision is, are we happy taking the
baby
step ... or do we want to give it all up?" said Sen. Irene Aguilar, D-Denver, sponsor of the vaccine measure.
The bill still requires schools to disclose vaccination rates, a safeguard aimed at protecting kids with fragile immune systems. It also directs state health authorities to work on improved communication with parents about vaccines.