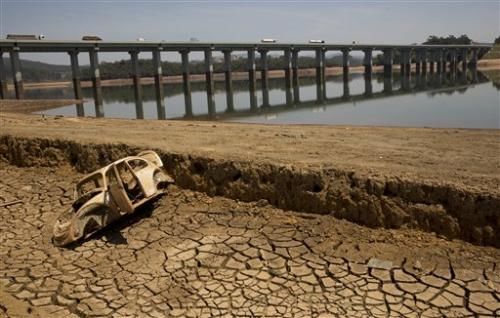 Halfway through the rainy season, the key reservoir for the hemisphere's largest city holds just 6 percent of its capacity, and experts warned Friday that Sao Paulo authorities must take urgent steps to prevent the worst drought in more than 80 years from drying it out.
The system of reservoirs and rivers that provide water to millions in this city have received less rainfall than hoped during the first weeks of the wet season, raising fears they won't be replenished as hoped.
Rainfall during the first two weeks of January totaled just 2.9 inches (7.1 centimeters), well below the historic average for the month of 10.7 inches (27.1 centimeters).
The biggest problem is in the Cantareira water system, which is the largest of six reservoirs that provide water to some 6 million of the 20 million people living in the metropolitan area of Sao Paulo city. Cantareira is now down to 6 percent of its capacity of 264 billion gallons (1 trillion liters), the water utility Sabesp said on its website.
Of the remaining five systems, Alto Tiete is at 11 percent of capacity, Rio Claro 25 percent, Alto Cotia 30 percent, Guarapiranga 40 percent and Rio Grande 70 percent.