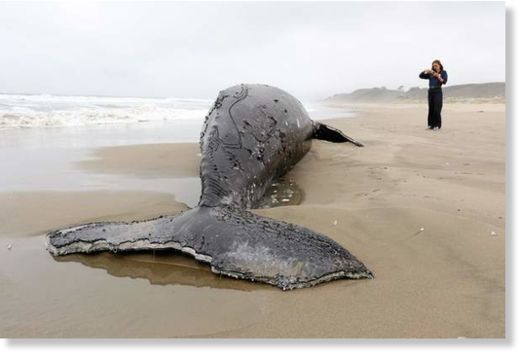 Two gray whale carcasses washed up in Santa Cruz County this week, prompting Long Marine Lab officials to investigate their deaths.
The whales — one at the northern end of the county and the other at the southern end — were first reported Wednesday, but officials couldn't conduct necropsies when they were reported because of the tide, said Terri Sigler, marine mammal stranding coordinator for Long Marine Lab.
A necropsy conducted Thursday on a 40-foot adult gray whale that washed ashore near Waddell Beach near Davenport couldn't determine the cause of death, Sigler said.
The team did say there was no evidence of the animal dying because of a ship strike or entanglement and likely was dead for at least a couple of days, she said.
"Because of the incoming tide, the necropsy was curtailed," said Sigler, though an abridged version was performed.