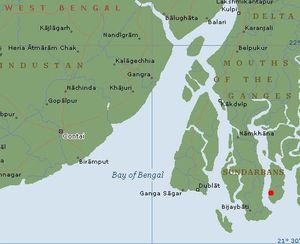 Are climate change fears coming true in the Sunderbans? An unexpected high tide has left a major portion of Sagar Island flooded, leaving environmentalists worried about its future.
Sea water gushed into the island through Muriganga river on July 14, causing extensive damage to crops and destroying homes. Around 10 villages were affected and they continue to be submerged by the untimely rise in water level, which could have been triggered by a change in climate in the region, fear experts.
It is usually the shara-sharir baan (neap tide) that hits Sunderbans twice a year - in April and September. But it rarely triggers a flood.
This sudden influx of water was not neap tide, say locals and experts. It was much fiercer and struck at least two months ahead of the neap tide
, they say.