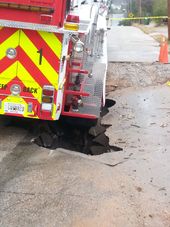 A 13-foot sinkhole opened up beneath a Atlanta firetruck early Monday afternoon in southwest Atlanta.
Around 12:45 p.m., Atlanta Fire & Rescue Department spokeswoman Janet Ward said Ladder Truck 1, from Station 1 near Castleberry Hill was going west on Ashby Grove when the road crumbled under the truck.
No one was hurt, Ward said.
"Miraculously, there are little signs of damage," she said.
The truck was quickly rescued from the eight-foot deep sinkhole by department vehicles, the street was cordoned off and City ofAtlanta officials have been notified, authorities said.
The cause of the sinkhole is unknown at this time.