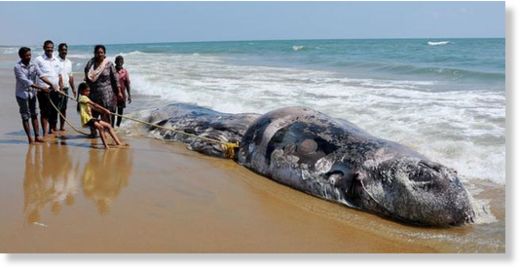 The washing ashore of three sperm whales in the last three days has taken fishermen and marine researchers along the east coast by surprise.
While the first dead whale was found near Puducherry on Friday, a second carcass was located at Alambaraikuppam near Marakkanam on Saturday with the third being found at Uyyalikuppam near Kalpakkam on Sunday.
The stranded whale at Uyyalikuppam was a male measuring 50 feet in length and weighing nearly 4 tonnes. The carcass found on Saturday at Alambaraikuppam was that of a female sperm whale which measured 35 feet and weighed nearly 3 tonnes. Both died of injuries suffered on the tail after getting entangled in large nets near the sea surface, said researchers.