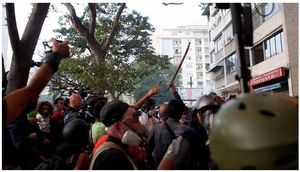 Venezuelan opposition protesters in Caracas attacked three journalists following a march demanding "greater freedom of the press". Meanwhile, barricades in Tachira state have claimed another life.
Luis Gutierrez Camargo was killed instantly during a collision with an opposition roadblock in Tachira state yesterday, communication minister Delcy Rodriguez announced via Twitter.
Rodriguez condemned the use of street barricades, describing them as "murderous methods".
"Were the violent ones who organised these barricades unaware that they can end the life of another person? This is a protest?" Rodriguez stated.