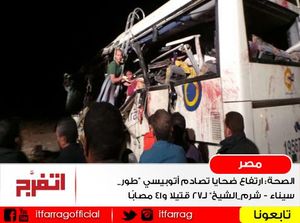 At least 33 people have been killed and more than 40 injured when two buses collided early on Friday morning in Egypt's Sinai Peninsula, according to the Egyptian news agency MENA. The incident happened around 50 km from Sharm el-Sheikh.
The accident is believed to have happened when
one of the bus drivers fell asleep behind the wheel
, which led to the collision, which was so strong that one of the vehicles overturned. Four foreigners are among the wounded, including one woman from Ukraine, two Saudi citizens and one from Yemen, according to local health ministry official, Mohamed Lashin.