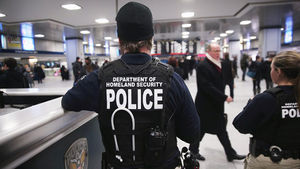 A never-before-published document released by The Intercept on Wednesday
reveals the flexibility with which United States officials may place individuals on watchlists and deem them terrorists without obtaining concrete proof.
The 166-page document, the "March 2013 Watchlisting Guidance," suggests that the US government relies on "
a secret process that requires neither 'concrete facts' nor 'irrefutable evidence' to designate an American or foreigner as a terrorist
," journalists Jeremy Scahill and Ryan Devereaux
wrote this week
.
According to an excerpt of the lengthy but unclassified document, the guideline was "developed to help standardize the watchlisting community's nomination and screening process," which federal agencies implement when encountering persons that officials may believe are linked to terroristic activity.
The document suggests that those officials have a wide breadth with regards to evaluating suspects, however, and that
one White House official even has the power to unilaterally place "entire categories" of people onto lists that may bar those individuals from traveling by air.
The Obama administration, the journalists claim, "quietly approved a substantial expansion" of the list last year, allowing more individuals to be targeted than before with less evidence than before.