Disillusioned by the unfulfilled promise of the cities and feeling stifled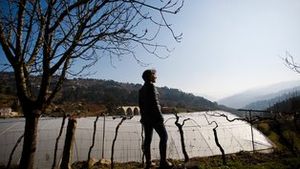 by tough austerity measures aimed at coping with an economic downturn, some Portuguese are opting out and returning to the land.
Jose Diogo, who spent two years in Lisbon working as a technical advisor at a meat company, was one who fled at the beginning of Portugal's debt crisis in 2009, and has no regrets.
"I lived in Lisbon and decided to go back home to the interior to grab the opportunity of exploring the land my father owned," Mr Diogo said on the porch at his stone farm house, looking out over apple orchards and grazing fields for his 30 cows.
Far from discouraging people like Mr Diogo, the government is trying to get others to follow in his footsteps.