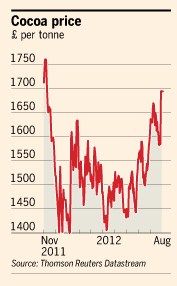 Cocoa prices hit a 10-month high on Wednesday as uncertainty about supplies from Ivory Coast, the world's largest exporter of the commodity used to produce chocolate, triggered a rush to cover bearish positions among investors.
The benchmark cocoa price in London has jumped almost 8 per cent this week on worries that the west African country, which has overhauled the way it markets the beans, would not be able to meet its contracts, leaving trading firms without enough supplies.
NYSE Liffe December cocoa hit £1,715 a tonne on Wednesday, rising above the £1,700 level for the first time since November last year.
Cocoa traders noted the absence of natural sellers of the commodity after Ivory Coast and Ghana, which account for nearly 60 per cent of the world's production, already sold most of their crops for the 2012-13 season.
"There's not much left to stop the market going higher," said Eric Sivry, head of agricultural options at London-based brokers Marex Spectron.