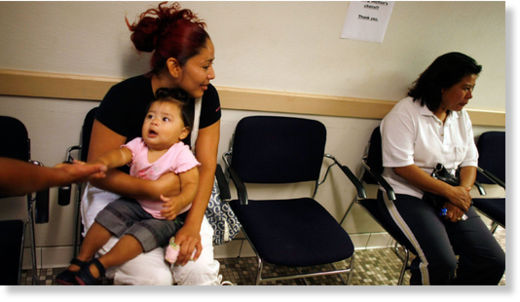 Government dependability is continuing to rise, with a record-breaking number of Americans enrolled to receive food stamps. The latest USDA report shows that 47.8 million Americans, which make up 15 percent of the country, are receiving the benefits.
The US Department of Agriculture has announced that 47.79 million people were enrolled in the Supplemental Nutrition Assistance Program (SNAP) in December, which is up from the 46.61 million who were enrolled at the end of 2011.
Most of these individuals lived in Texas - the state with the highest average of monthly participants, which was 4.04 million in 2012. California had 3.96 million participants and Florida had 3.35 million. The numbers are high, but reasonable, since those states are among the top four most populated in the US. But Washington, DC has the highest ratio of food stamp users. With a population of 617,996 and 141,147 SNAP participants, about 23 percent of city residents were dependent on food stamps in 2012. Texas falls close to the national average, with 15.5 percent of its residents eligible to receive the assistance.