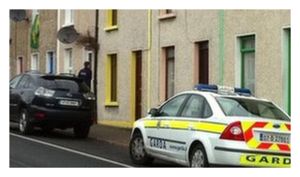 House and car doors have been glued shut in a County Donegal town for the third time in five weeks.
On Wednesday morning, up to 60 cars and houses in the Glencar Park area of Letterkenny had their locks glued by a disguised man who was captured on CCTV.
Local locksmith, Conal Kelly, said the glue renders the doors useless and they cost more than €50 (£40) to replace.
In the first incident on September 28, over 25 homes in Letterkenny were targeted.
Resident John Stevenson had his house and car doors glued shut.
"A neighbour came along and told me I had glue on my front door and the door of my car, all the houses in the row were done.
"He had a little screwdriver with him and he managed to get the glue out of both the house and the car doors so it wasn't a major problem.
"But if I had left the house and pulled the door behind me it would have been a problem there
"It was only then that I had heard that Ballymacool had been targeted before.