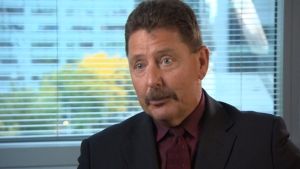 A CBC/Radio-Canada investigation has uncovered methods organized crime may be using to launder money through privately owned automated tellers, or ATMs.
There are almost 38,000 of the ATMs, also known as "white label" cash machines because they are not bank-owned, scattered across the country - nearly double the number of bank-owned ATMs.
It is a growing, lucrative industry. Placed in hotel lobbies, bars and food courts, they provide quick access to cash, albeit with an annoying surcharge.
Anti-money-laundering expert Garry Clement, a former RCMP officer, says it's easy to thwart rules aimed at making it harder for criminals to acquire and operate ATMs. (CBC)
But experts believe some machines may have a more nefarious role.
"Investigations have shown over the years that these white-label ATM machines are in every strip club, every bar throughout Canada," said Garry Clement, an international authority on money laundering and retired RCMP officer who has been warning about the vulnerability of ATMs. "And a lot of them (ATMs) are affiliated with organized crime groups, in particular the Hells Angels or other motorcycle gang groups which are known as organized crime."