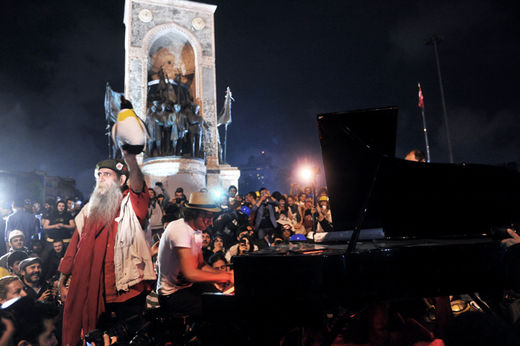 Turkish protesters remain defiant after Prime Minister Tayyip Erdogan declared that the disturbances must end within 24 hours. Overnight riot police used tear gas and water cannons to break up activists in Ankara as they built barricades.
"I have given orders to the interior minister,"
Erdogan said Wednesday. "This will be over in 24 hours."
He added that the protests were hurting Turkey's image and economy. Meanwhile, Turkey's Ruling Justice and Development Party (AK Party) Deputy Chairman Huseyin Celik has said a referendum might be held to decide whether to build replicas of Ottoman-era barracks in Gezi Park or leave it as it is.
Erdogan's deadline is unlikely to be observed by the protesters, reports RT's Irina Galushko from Istanbul. Following PM's statements, activists at Taksim Square were chanting and singing in defiance of his order to leave.
The city was relatively quiet overnight, but the capital Ankara saw its fifth night of rioting in a row. There police again used tear gas and water cannons to break up some 2,500 protesters, as they were trying to erect barricades on a road leading to government offices.