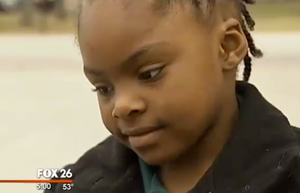 Amazing Johnson, 6, severed the top of her finger when it was accidentally caught in a door at school. Instead of calling 911, school officials only called her parents.
Latesha Coleman, Amazing's mother, received a call from Hughes Road Elementary administrators about her daughter's injury, but tells
KRIV Fox 26
they downplayed just how severe the injury was. Coleman was told the "nurse was working with Amazing, that Amazing was fine...She's being loved on by the nurse."
Emergency medical help was not called, even as it became clear that Amazing was missing a piece of her finger.