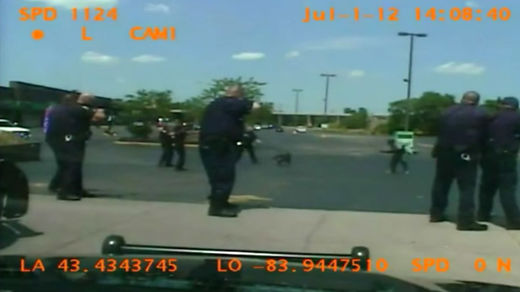 A video has surfaced showing a homeless man being shot dead by eight police officers as he held a small penknife. 46 bullets were fired.
Milton Hall, 49, has been described as "a community worker, and he was always there speaking out for those whom he considered the weak, for those who did not have the strength to speak for themselves," according to the American Civil Liberties Union, which
released
the disturbing video.
Given such seemingly clean credentials, it's unfathomable to imagine such a person being shot over a dozen times for merely holding a pen knife at a safe distance from police officers. But that's exactly what happened in July 2012 in Saginaw, Michigan, after Hall got into an argument with police following an alleged fight with a store clerk.
The graphic video, taken by a bystander, shows Hall in a parking lot surrounded by eight police officers, all of whom have their weapons drawn and aimed at him. One of the officer's orders Hall to drop his weapon. He refuses. After a period of about 10 seconds the officers open fire, with Hall appearing to be dead before he hit the ground.
Of the 46 shots fired, Hall had been hit 14 times.