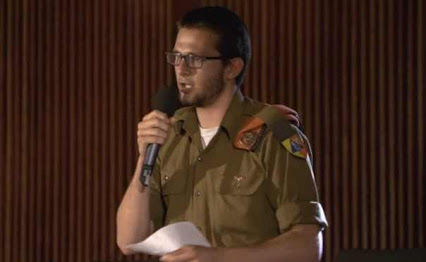 This week, during the filming of Deutsche Welle's "The New Arab Debates," Corporal Shachar Berrin, a soldier in the Israeli Defense Forces (IDF) spoke out about the actions of his fellow officers. During a discussion about the military situation in Israel, Berrin stood up to address the panel about how members of the Israeli military would treat Palestinian people like animals. He also expressed that this is a systematic problem that exists pretty much across the board in the IDF.
During the Q&A section of the debate, Berrin stood up and said:
My name is Shachar Berrin and my question is for Dani Dayan. It was mentioned that Israel is the 11th happiest country in the world. Other organizations and institutions put it at the mid-30s or different statistics, but it doesn't matter. I propose that what makes a country good isn't whether it is happy or not, it's about the ethics and morality of the country.
When soldiers, when we, are conditioned and persuaded on a daily basis to subjugate and humiliate people and consider other human beings as less than human, I think that seeps in, and I think the soldiers, when they go home ... they bring that back with them.