This article is related to two previous ones. As you will see, the destruction of beauty (modern art), the destruction of families and identities (gender theory), and the destruction of religions show several similarities.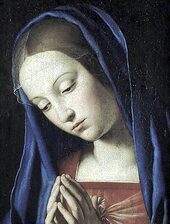 You might already know a bit about my grandma and her witty remarks. I mentioned her in the two articles mentioned above. Something I didn't share with you yet, is her religious faith.
When I was a kid, raised by atheist parents, I found it difficult to understand why my grandma was going to church, why she was interested in the Pope's doings and sayings, why she was praying, why she had paintings of the Virgin Mary hanging on walls and a crucifix above her bed.
To be frank I found all this religious display a bit ridiculous. How could it have been different, when the only thing I had ever heard about the Church was its evil deeds: the Crusades, the Inquisition and, more recently, the pedophile priests.
Grandma's religious faith didn't decline with time. She's now 100 years old and still a religious person. Each time I come back from some medical check-ups, I tell her that the results are good and she's on the verge of tears because she's so relieved. She then tells me in a soft emotional voice: "I've been praying so much for you".
I was struck by our difference in beliefs. Things had changed so fast. Two generations ago most minds were permeated with religion while my generation at best ignored it at worse despised it.
This introduction might give you an idea of the topic of this article. We we will be dealing with religions, particularly Christianity. Mores specifically
how religions influence us
and actually how any social/cultural environment whether
religious or not
influences us. We will see that a religious environment is far less detrimental for individuals and societies than the atheist and nihilistic creed that dominates today's world.
Our social/cultural environment is made of a set of
beliefs
,
rules
and
norms
that basically define what is
good
and what is
evil
. For a long time religions played a major role in the definition of those items. So our first step will be to have a quick glance at how the fundamental beliefs (i.e. the cosmogony, the way we see the world) evolved over time.