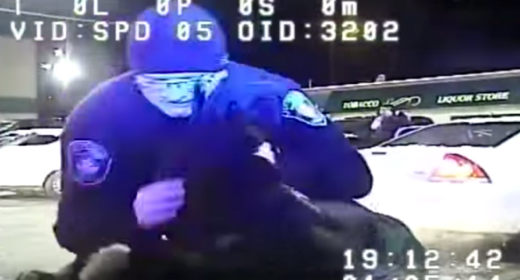 A white police officer in Superior, Wisconsin who grabbed a black woman by her hair and slammed her face into the hood of a car and punched her several times has received a single day's suspension from duty.
According to NorthlandNewsCenter.com
, Officer George Gothner was not censured for his violent attack on Natasha Lancour, which took place on Jan. 5, but
for swearing
while he did it.
The decision came at the end of a lengthy internal investigation by the police force. The violent arrest was caught on camera and spawned a significant outcry.
Superior Police Chief Charles LaGesse said that the department has ruled that Gothner's use of force against the unarmed Lancour
was consistent with his training and with the policies of the department
.

Comment: Beating an innocent woman is consistent with the policies of the police?! They are telling citizens point blank what their role is in our Kafkaesque society.


On the night of the assault, Gothner and other officers had approached a group of people in the parking lot of a night club called the Keyport Lounge. In dashboard camera footage of the incident, Gothner can be seen shouting and Lancour and pointing into her face.
Then, Gothner dragged Lancour to the squad car by her hair, bounced her face off the hood, then proceeded to punch her in the face and head.
However, the Wisconsin Department of Justice investigation found, Gothner "failed to utilize proper communication skills and was vulgar and unprofessional in his initial contact with Lancour and his words were a violation of several department policies."