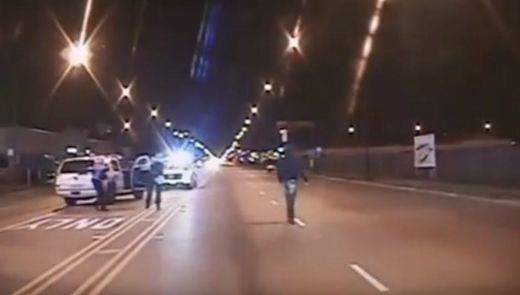 The Chicago Police Department has released video footage of the officer-involved shooting of 17-year-old Laquan McDonald, who was struck 16 times during a confrontation with officers.
Chicago Mayor Rahm Emanuel urged calm as City Hall got set to release police dash cam footage from the shooting incident, which occurred in October 2014. During the incident, 37-year-old Jason Van Dyke, a white officer, shot and killed McDonald, an African-American teen.
Warning: The footage has been described as graphic.
From the black and white dash cam video, which features no audio, viewers can see the back of McDonald jaywalking along the middle of the road at 5:18, with his arm outstretched and holding a small knife. A police vehicle is seen approaching him to the left of the screen, and two officers get out with guns drawn.
As McDonald moves away from the officers, his body becomes the only one in the video frame. He can then be seen twisting around and falling to the ground. A puff of smoke lifts from his body as a bullet appears to strike. Without audio, there is no way of knowing what, if anything, was said. There is no way of knowing how many shots were fired simply from viewing the video. McDonald appears to move his arms several times.
At 5:45, another puff of smoke is seen leaving his body. At 5.51, a police officer comes into the frame to kick the knife out of McDonald's hand. Another police vehicle drives up and at this point, because of the vehicle lights, what appear to be pools of water around the body, possibly blood, can be seen.
Prosecutors said Officer Jason Van Dyke opened fire from about 15 feet and kept shooting after the teen fell to the ground.