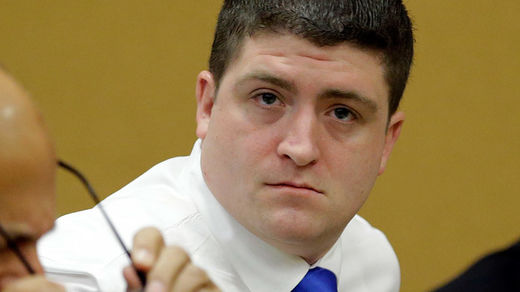 An Ohio police officer has been found not guilty of the voluntary manslaughter of two unarmed black motorists. The verdict has prompted protests in Cleveland, with authorities bracing for the possibility of additional demonstrations.
Cleveland officer Michael Brelo, 31, faced two counts of voluntary manslaughter after mounting the hood of the suspects' car and firing shots into their windshield in 2012. He faced up to 22 years in prison if found guilty.
But Cuyahoga County Judge John P. O'Donnell ruled on Saturday that Brelo's
"entire use of deadly force was a constitutionally reasonable response to an objectively reasonably perceived threat of great bodily harm."
The verdict was met with protests from those who say the shooting was racially motivated, as Brelo is white and the motorists were black. Standing at the doors of the Justice Department where Brelo was found not guilty, the demonstrators shouted "No justice, no peace."
A line of police officers in riot gear was initially shown at the doors, though officers later retreated inside.
Brelo was one of 13 officers who fired 137 shots at a car with Timothy Russell and Malissa Williams inside, following a high-speed chase on November 29, 2012.