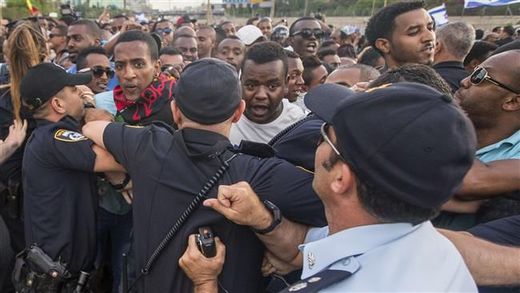 Israeli police forces have clashed with Ethiopians protesting against the Tel Aviv regime's racism and police brutality.
Sunday's clashes erupted in the city of Tel Aviv on Sunday as Israeli forces fired stun grenades and tear gas to disperse thousands of Ethiopians, who had taken to the streets to voice anger against institutionalized discrimination and police violence.
Some demonstrators threw stones and glass bottles after attempting to storm the municipality building. According to local media reports, at least 20 policemen and several protesters were injured during the clashes.
Demonstrators were chanting and holding up signs reading, "A violent policeman must be put in prison" and "We demand equal rights".
The event's organizers reportedly put the number of people attending the rally at 10,000. Ethiopian demonstrators blocked major arteries and junctions in central Tel Aviv, vowing to continue rallies until their demands are met.