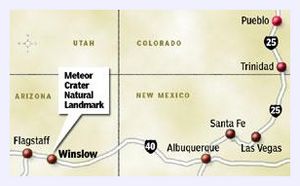 Arizona - OK, I admit it. The main attraction at Meteor Crater Natural Landmark really does look like a great big hole in the ground.
But looks, as they say, can be deceiving.
Some 50,000 years ago, a meteorite slammed into this wind-swept plateau, spewing molten fragments over the surrounding landscape and creating the world's best-preserved, and first scientifically authenticated, meteorite impact crater.
Standing on one of the crater's four outdoor observation platforms, it's difficult to imagine how a rock could have gouged out this gaping, bowl-shaped depression that measures more than 4,000 feet across and is deeper than a 60-story building is tall.