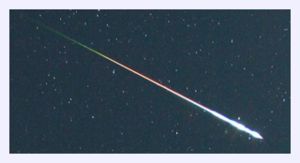 Just received this note from a member of the
Howard Astronomical League:
Frank,

"Not sure if you have heard yet or not, but at tonight's (June 24) Orioles game around 9:45PM there was an extremely bright meteor (bolide) in the sky that went over the city. I was sitting on the first base side and the meteor flew overtop the Hilton Hotel (left field of the stadium). It was heading roughly westward and for being over the city was very very bright! Unfortunately it was between innings and I had put my camera down.

"I would hope though that with all the photo and TV cameras that someone must have gotten a picture or video.

"Just wanted to let you know in case you were interested. - James Willinghan"
Sure, I'm interested. Did anyone at the stadium (or anywhere else in the region) spot this object? If so, leave a comment here. Better yet, if you managed to get a photo or video, let me know and we'll post it and replace the one above.
Remember, it's very important to include detailed information describing the object, where you were, which direction you were facing, which direction the object was travelling, how high above the horizon it was and how long it was visible.