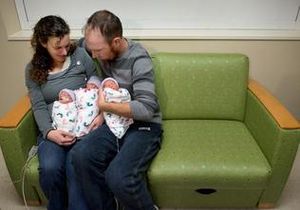 They are a rare group these three girls at
Sutter Memorial Hospital:
identical triplets conceived the old-fashioned way.
Abby, Brin and Laurel Hepner were conceived without fertility treatments. A single fertilized egg split into three, producing three babies who look almost exactly alike.
They were born Nov. 22 to parents Hannah and Tom Hepner, who live in Quincy,
Plumas County.
"Identical triplets are anywhere from one-in-a-million and one-in-a hundred million,"
said Dr. William M. Gilbert, medical director of Sutter Women's Services and founder of Moms of Multiples Center. "It is so rare that it is hard to calculate how frequently they occur."
"We are thinking of bottling the water in Quincy and offering it as a fertility treatment," said Tom Hepner, 33.
At birth, Abby weighed 3 pounds, 2 ounces; Brin was 3 pounds, 11 ounces; and Laurel tipped the scale at 4 pounds. Gilbert said those are good weights for triplets and the babies are doing well.