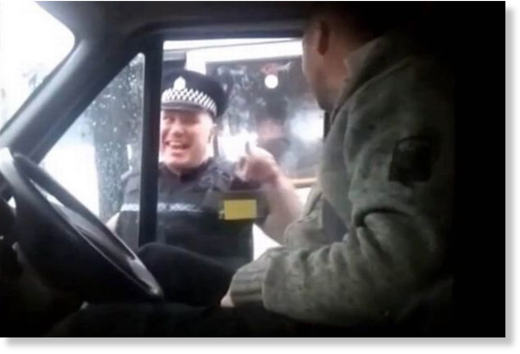 The clip shows a van driver who has been pulled over by police who suspect him of using a mobile phone while driving.
Two policemen who keep their cool and have a laugh with a cheeky motorist who refuses to give his details have become an internet hit.
The officers pulled over a van driver suspected of using his mobile phone at the wheel.
The YouTube video, which has been viewed 73,000 times, shows 20 minutes of banter which wouldn't be out of place in a Chewin' the Fat sketch.
The driver, who will only tell the officers he is "John, son of David", repeatedly denies the road traffic charge.
The man claims he was going to get a banana and said: "I'm not driving today, at this point in time I am simply travelling."
Even when he is threatened with arrest for obstruction, "John" refuses to give his date of birth because he "can't remember coming out my mother's water".