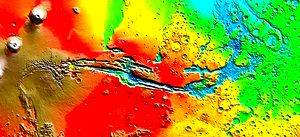 If you've seen
The Core
then you that the only thing between us and instant space-death is a magnetic field. You also know that's the only thing that's even heard of real science in the entire movie, but it's a pretty important one - and could explain why the otherwise eminently habitable Mars is such a barren wasteland. Scientists think the Martian magnetic field might have been hammered into submission by strikes from space. (The image above shows the the Syria, Sinai, and Solis Planum impact areas).
Planetary magnetic fields are created by massive molten metal currents within the planet's core. A flowing current creates a magnetic field, even when the current is massive volumes of charged liquid metal moving under the influence of temperature gradients (convection) - in fact, especially then. But magnetic analysis of Martian sites by Berkeley researchers show that the red planet's protective field was switched off half a billion years ago, and now some scientists say they know why.
All was pure speculation until data came back from the Mars Global Surveyor and other recent spacecraft. In 2009, planetary scientists Robert Lillis and Michael Manga, both of the University of California, Berkeley, linked age estimates of impact basins with magnetic field strength to show that the previously established date of heavy bombardment, about 3.9 billion years ago, corresponds to the death of Mars's dynamo.