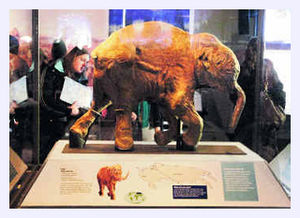 About 42,000 years after scientists say she fell into mud near a river and suffocated, an intact baby woolly mammoth from the Ice Age is on display for the first time in the U.S. at the Field Museum.
Scientists say the mammoth calf named Lyuba is the best preserved and most complete mammoth specimen known.
She was found in 2007 by a reindeer herder in northern Siberia's remote Yamal-Nenets autonomous region and named for his wife.
"Her preservation, her really lifelike qualities allow you to form a better impression of what the past was really like," said Dan Fisher, a University of Michigan paleontologist and the museum's exhibit curator. "It becomes more immediate. It's real."
In the exhibit, visitors can see the folds and creases in Lyuba's (pronounced lee-OO-bah) skin, the bottom of her foot and small patches of hair on her ear and leg. At 45 inches long, Lyuba weighs about 92 pounds and if fully grown could have measured 8 feet tall at her shoulder and weighed between three and four tons, Fisher said.