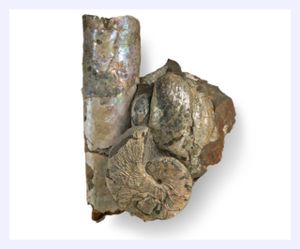 The last supper of an ammonite, a shelled cephalopod relative of squid and octopus, was stuck in the individual's mouth when it died, described in a new study published in the journal
Science.
Extremely powerful X-rays revealed that the Baculites ammonite's final meal was a small snail and three tiny crustaceans.
Ammonites, one of the Dinosaur Era's most abundant marine animals, first emerged around 400 million years ago before dying out, along with dinosaurs and numerous other animals, 65.5 million years ago.
"Unfortunately we do not know what killed the Baculites," lead author Isabelle Kruta of Paris' National Museum of Natural History told Discovery News.
Kruta and her team, however, were able to unveil amazingly vivid details about this specimen, and other ammonites that are all extinct.
In a scientific first, a process called synchrotron X-ray microtomography, which creates cross sections of 3D objects without harming them, was used on several ammonites. Some of the fossils were discovered at a site in Belle Fourche, S.D.