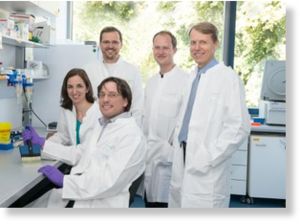 Researchers at the University of Bonn Hospital discover how our organism definitively detects RNA viruses.
Our immunosensory system detects virus such as influenza via specific characteristics of viral ribonucleic acid. Previously, it was unclear how the immune system prevents viruses from simply donning molecular camouflage in order to escape detection. An international team of researchers from the University of Bonn Hospital and the London Research Institute have now discovered that our immunosensory system attacks viruses on a molecular level. In this way, a healthy organism can keep rotaviruses, a common cause of diarrheal epidemics, at bay. The results have been published in the renowned journal
Nature
.
Every day our bodies are confronted with a variety of viruses and other pathogens. Our immune systems must constantly decide what is "foreign" and what is part of the body itself so that the body's own cells are not inadvertently attacked by its own defense troops. Viruses imitate the body's own structures and thus represent a special challenge for the immune system. In this way, the immune system works like a sensory organ which continuously detects dangers and initiates the appropriate defense mechanisms. This immunosensory system searches for viruses by surveilling the body's own ribonucleic acid (RNA) for RNA with characteristics typical of viruses. In RNA viruses, RNA is the carrier of the virus's genetic information. To reproduce, viruses must multiply their RNA, and this multiplication leads to the development of molecular patterns which are in turn used to detect the viruses themselves.