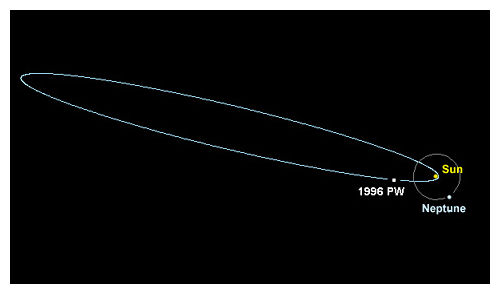 When a telescope atop Hawaii's Haleakala swept up a fast-moving object in August 1996,
astronomers didn't know what to make of it
. Designated 1996 PW, the little
interloper had the
highly elongated orbit of a comet
that had ventured inward from the Oort Cloud, at the solar system's outermost fringe.
But it had no tail or coma -
visually and spectroscopically, it looked like an asteroid.
At the time, dynamicists Paul Weissman (Jet Propulsion Laboratory) and Hal Levison (Southwest Research Institute) proposed that 1996 PW might actually be a rare hybrid: an asteroid from the Oort Cloud. Their suggestion ran completely counter to the consensus notion that only
comets
existed in that vast, distant reservoir. But Weissman and Levison had run the numbers: they calculated that, along with a trillion or so comets, roughly 8 billion asteroids could have been flung out into the Oort Cloud by close planetary encounters early in solar-system history.
When other researchers suggested that 1996 PW was probably just an "extinct" comet, having depleted the volatile ices that create a coma or tail, the notion of asteroids in the Oort Cloud got shelved - but not completely forgotten.