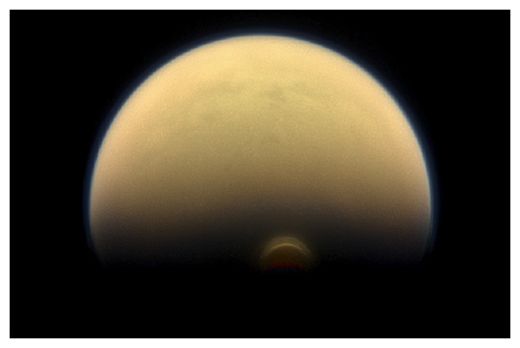 NASA's Cassini spacecraft has detected a massive, never-before-seen icy cloud at the south pole of Saturn's huge moon Titan.
The newly spotted feature — part of a cloud system known as the south polar vortex — suggests that winter in the southern hemisphere of
Titan
will be even colder than predicted, scientists said.
The atmospheric signal "looks pretty normal, then BOOM!, increases," indicating the presence of a brand-new cloud, said
Cassini
participating scientist Carrie Anderson, of NASA's Goddard Space Flight Center in Greenbelt, Maryland. "I was so excited, I pretty much fell out of my chair."
Anderson presented the new
Cassini
results at a news briefing Nov. 11 at the 47th annual meeting of the American Astronomical Society's Division of Planetary Sciences in Oxen Hill, Maryland. She also spoke at the morning session of the conference that day.