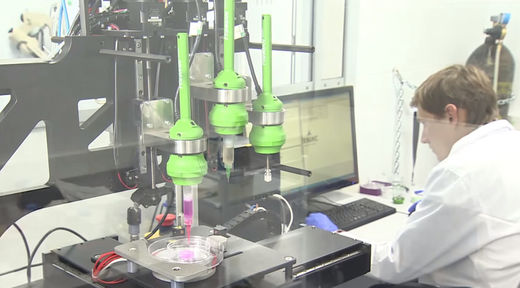 A Moscow laboratory has conducted the first successful organ translation using a unique Russian 3D-printing technology. The breakthrough could potentially help millions suffering from thyroid disorders - and paves the way for printing other human organs.
The thyroid, a butterfly-shaped gland in the neck, can have a dramatic impact on a huge variety of human bodily functions. The groundbreaking operation, thus far only in rodents, was performed by a team from the 3D Bioprinting Solutions Laboratory in the Russian capital some three months ago.
"Then we were monitoring them over eight weeks and the level of the hormone continued growing," said Elena Bulanova, 3D Bioprinting Solutions Laboratory Head.
The thyroid glands in mice were first killed by a radioactive iodine injection, before the research team transplanted newly-printed organs into their subjects.Three weeks into the experiment, the team, headed by Vladimir Mironov, observed "higher" levels of the hormone T4, which is responsible for growth and the metabolism, and measured higher body temperatures, Bulanova said.After 11 weeks of monitoring the subjects' 3D printed thyroid glands, they were fully functional with completely restored thyroid function.
"All in all we consider experiment to be successfully conducted because we managed to raise the level of hormone T4," Bulanova said.