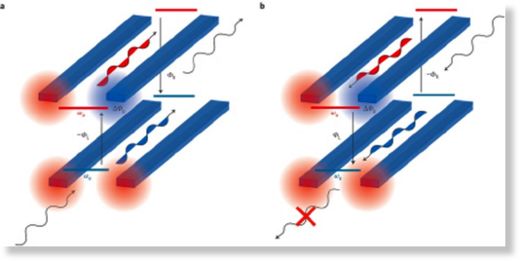 In electronics, changing the path of electrons and manipulating how they flow is as easy as applying a magnetic field.
Not so for
light
. "We don't have such a thing for light," said Michal Lipson, professor of electrical and computer engineering. "For the majority of materials, there is no such thing as something I can turn on, and apply this magic field to change the path of light."
Until now. Lipson, a leader in the emerging field of
silicon photonics
- sending light through waveguides instead of currents through wires - and colleagues have shown that
an equivalent field for light does exist
. Experiments led by graduate student Lawrence Tzuang, in collaboration with Paulo Nussenzveig of University of Sao Paulo and Kejie Fang and Shanhui Fan from Stanford University, are described in a recent issue of
Nature Photonics
.
This effective
magnetic field
has to do with the light's phase, which is a measure of a particular point in a light wave's cycle, quantified as an angle in degrees.