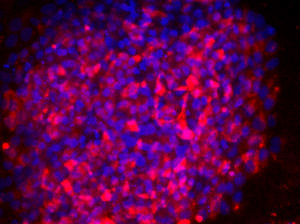 Like fossils buried beneath a modern landscape, the
human genome is littered with sequences that originated from ancient viral DNA insertion events
. Scientists have long assumed that these 'transposable elements' are, like fossils, biologically inactive and primarily interesting as a window into evolutionary history. However, researchers at the A*STAR Genome Institute of Singapore have now uncovered evidence that some of these sequences play a
prominent role in early embryonic development
.
Huck-Hui Ng and colleagues embarked on this project in collaboration with Guillaume Bourque at Canada's McGill University. Bourque's group had discovered that one particular class of sequences of transposable elements - known as human endogenous retrovirus subfamily H (HERV-H) - appears to be specifically expressed in human embryonic
stem cells
(hESCs). Indeed, these HERV-H sequences are actively transcribed in hESCs, producing enigmatic RNA strands that do not encode a protein but nevertheless appear to serve some function.
Ng and Bourque set out to clarify the role of this RNA by performing experiments in which they selectively depleted it from stem cells. hESCs are actively maintained in a so-called 'pluripotent' state, from which they are capable of developing into any cell type in the human body (see image). In the absence of HERV-H RNA, hESCs rapidly lost their pluripotency; the researchers noted that the loss of HERV-H expression considerably altered the activity of many genes associated with cell development and proliferation.