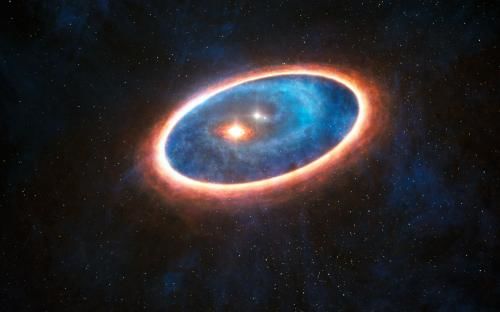 Scientists using the Atacama Large Millimeter/submillimeter Array (ALMA) have detected a
streamer of dust and gas flowing from a massive outer disk toward the inner reaches of a binary star system
. This
never-before-seen feature
may be responsible for
sustaining a second, smaller disk of planet-forming material
that otherwise would have disappeared long ago.
A research group led by Anne Dutrey from the Laboratory of Astrophysics of Bordeaux, France, and the National Centre for Scientific Research (CNRS) observed the distribution of dust and gas in a binary star system called GG Tau-A. It was recently discovered that one of GG Tau-A's components is itself a double star. This object is only a few million years old and lies approximately 460 light-years from Earth in the constellation Taurus.
Like a wheel in a wheel, GG Tau-A contains a large, outer disk encircling the entire system as well as an inner disk around the main central star. This second inner disk has a mass roughly equivalent to that of Jupiter.
Its presence has been an intriguing mystery for astronomers since it is losing material to its central star at a rate that should have depleted it long ago
.
While observing these structures with ALMA, the team made the exciting discovery of gas clumps in the region between the two disks. The new observations suggest that material is being transferred from the outer to the inner disk, creating a sustaining lifeline between the two.