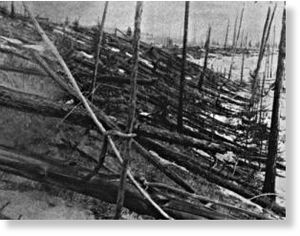 The mysterious 1908 Tunguska explosion that leveled 830 square miles of Siberian forest was almost certainly caused by a comet entering the Earth's atmosphere, says new Cornell University research. The conclusion is supported by an unlikely source: the exhaust plume from the NASA space shuttle launched a century later.
The research, accepted for publication (June 24, 2009) by the journal
Geophysical Research Letters
, published by the American Geophysical Union, connects the two events by what followed each about a day later: brilliant, night-visible clouds, or noctilucent clouds, that are made up of ice particles and only form at very high altitudes and in extremely cold temperatures.