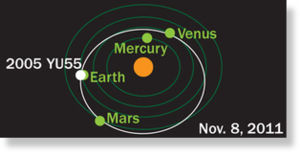 Barely two weeks after the failure of a doomsday prediction by a United States (U.S.) based preacher, Russia and U.S. scientists are at war over another perceived threat to human existence.
The danger this time is not an apocalyptic occurrence, but the smacking of the Earth by a giant asteroid in five months time.
The potentially perilous space rock is known as Asteroid 2005 YU55, a round mini-world that is about 1,300 feet (400 metres) in diametre.
According to U.S. scientists, this asteroid will approach the Earth within a scant 0.85 lunar distances in early November.
Due to its size, and the way it will whisk by so close to the Earth, an extensive campaign of radar, visual and infrared observations are being planned.