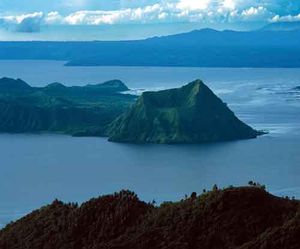 Last month, the Philippine Institute of Volcanology and Seismology (Phivolcs) announced that the water temperature in the main crater of Taal volcano in the Philippines had risen from 86.9 degrees Fahrenheit to 88.7 degrees Fahrenheit (30.5C to 31.5C), a sign that the volcano might soon erupt.
This provides an example of how much heat a volcano can generate.
And this is not the only lake that's running hot.
On March 1st of this year, the water temperature in New Zealand's Mt Ruapehu crater lake reached an astounding 105.8 degrees Fahrenheit (41C).
This was just short of the highest temperature ever reached since the lake was re-established in 2002, say volcanologists from New Zealand's Institute of Geological and Nuclear Sciences (GNS).
"The highest recorded temperature was 42.5degC (108.5F) in May 2003," says GeoNet duty volcanologist Agnes Mazot.
"
The temperature of Crater Lake
is a measure of amount of volcanic heat coming from Ruapehu," Mazot added.