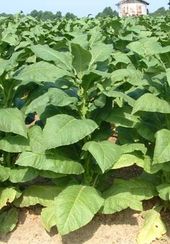 Researchers at the University of Louisiana at Monroe have discovered anticancer compounds in the most unlikely of places - tobacco leaves.
Khalid El Sayed, an associate professor of medicinal chemistry at the ULM College of Pharmacy, and ULM colleagues Paul Sylvester and Girish Shah received a patent for their discovery of anti-cancer compounds in fresh tobacco leaves earlier this week from the U.S. Patent and Trademark Office.
"The leaf and flower of the tobacco plant contain high amounts of the key flavor ingredient called cembranoids, which shows promise as an anti-cancer agent,"
El Sayed said. "It was very exciting to discover the anti-cancer activities."
But this doesn't mean people will reap the same benefits by using commercial tobacco, he warned, adding that
much of the anti-cancer compound is lost in the processing of commercial tobacco.
"This compound is not commonly found in commercial tobacco because commercial tobacco is largely degraded into smaller compounds for about a year to give it flavor during the processing and fermentation," he said.
The cembranoids are found in the waxy substance on fresh tobacco leaves and show potential for controlling metastic breast and prostate cancers. The plant produces them as a chemical defense to protect itself against insects and harmful microbial infections, El Sayed said.