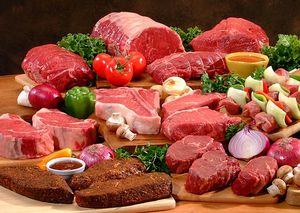 There is . . . but one categorical imperative: Act only on that maxim whereby thou canst at the same time will that it should become a universal law.

~ Immanuel Kant (The Categorical Imperative)
Vegetarianism, as a way of life, has been around for millennia - with relatively few adherents. Recently, however, reports in the news media, have suggested that a vegetarian way of life is healthier. Not surprisingly The Vegetarian Society has capitalised on these reports using them to persuade members of the lay public that their way is better for the animals, the environment, and, not least, for human health - and numbers are growing.
Forms of vegetarianism
Vegetarianism has evolved several forms. Generally the person who calls himself a vegetarian does not believe in killing animals and so does not eat meat and, sometimes, fish. He does, however, eat eggs and dairy produce. This form of vegetarianism, known more correctly as lacto-ovo-vegetarianism, is the most common form. There are also more extreme and restricted diets: the vegan diet whose followers exclude all animal products, but otherwise eat anything from the plant world. More restricted again are the Zen macrobiotic diets which consist almost exclusively of cereals and there are several variations on raw food - vegetarian - diets.
Vegans
do not eat or use animal products, animal by-products, or products tested on animals. The term vegan, formed from first three and last two letters of the word
veg
etari
an
, was coined in London in 1944 by seven vegetarians who founded the Vegan Society.