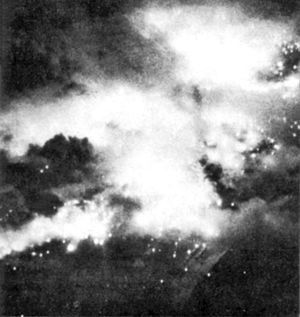 The full extent of the Dresden Holocaust can be more readily grasped if one considers that as many as a half a million persons died within a 14-hour period, whereas estimates of those who died at Hiroshima range from 90,000 to 140,000. Author Kurt Vonnegut was in Dresden as an American POW when it was bombed in 1945; he wrote a famous anti-war novel,
Slaughterhouse Five
, in 1969, based on his experience. The book was banned in several US states - and branded a "tool of the devil" in North Dakota. Churchill, the monster who ordered the Dresden slaughter, was knighted. The rest is history...
The WWII Dresden Holocaust - 'A Single Column Of Flame'
"You guys burnt the place down, turned it into a single column of flame. More people died there in the firestorm, in that one big flame, than died in Hiroshima and Nagasaki combined." - Kurt Vonnegut, Jr
On the evening of February 13, 1945, an orgy of genocide and barbarism began against a defenseless German city, one of the greatest cultural centers of northern Europe. Within less than 14 hours not only was it reduced to flaming ruins, but an estimated one-third of its inhabitants, possibly as many as a half a million, had perished in what was the worst single event massacre of all time.