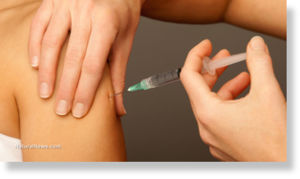 Unvaccinated children are supposedly the cause, according to state health officials, of a recent whooping cough outbreak that occurred in the posh Cape Cod area of Massachusetts. But as
reported
by CBS Boston, all of the children affected by the outbreak were already vaccinated,
proving once again that vaccines don't really work.
Some 15 children at Falmouth High School reportedly came down with the respiratory illness, which also goes by the name pertussis, sparking a wave of panic about a corresponding increase in vaccine exemptions. But as usual, nobody affected by the outbreak was unvaccinated, and no matter how hard the media tries to spin the issue, those who were vaccinated were not protected.
Mainstream media clouds issue of vaccinations and exemptions
Reporting for CBS Boston, I-Team correspondent Lauren Leamanczyk towed the pro-vaccine line with accusations that vaccine exemptions triggered the outbreak. Undisclosed data she apparently found reveals that vaccine exemptions have increased fourfold over the past 25 years, which public health officials say increases the risk of an outbreak.
This supposed correlation proves nothing, of course, as correlation does not imply causation.
But when vaccines are involved, any deviation from the standard vaccine protocol, which is basically to take whatever the government says is good for you, becomes the automatic scapegoat when an outbreak occurs.
In her story, Leamanczyk quotes the words of Dr. Sharon Daly, Chief of Pediatrics at Cape Cod Hospital, who declares that outbreaks increase when vaccination rates decrease. The implication, naturally, is that the Falmouth outbreak was triggered by unvaccinated children.