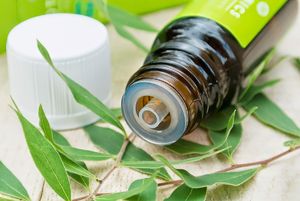 Americans are scooping up bottles of essential oils, lured by their amazing scents, household uses, and health benefits. They're natural medicines that are highly concentrated, which means they last forever (depending on how often you use them, of course) because - as the saying goes - "a little dab'll do ya."
Preppers love essential oils because they know that if society were to crumble and picking up Tylenol at the drugstore wasn't an option, essential oils would be there to often save the day.
Tea tree oil is a favorite among consumers who know their essential oils because of its seemingly endless uses. Also known as melaleuca oil, this natural cleaner/remedy is made from the leaves of the tea tree plant, native to Australia.
People used to crush the leaves and apply them directly to any number of skin conditions. Sometimes they inhaled the oils from the crushed leaves to relieve colds and coughs. These days, tea tree oil is distilled to a clear or very pale golden or yellow color and sold in dark-colored bottles.
[1]