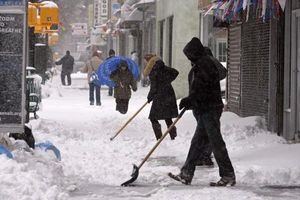 New York - A record-breaking winter storm slammed New York and much of the U.S. Northeast on Friday, forcing businesses, schools and transportation systems to shut down as nearly two feet of snow fell in the city.
Commuters struggled in the absence of suburban train and bus services into New York City, where the National Weather Service said more than 20 inches of snow had fallen so far with the storm set to become the third heaviest on record.
The heaviest storm to hit New York was in February 2006 when 26.9 inches blanketed the city. The latest storm took New York City's total snowfall for February to more than 36 inches, making it the snowiest month on record.
"Enough is enough -- I am tired of shoveling," said retired Ron Rigo, 62, as he tried to dig out his car in a Manhattan street. "It's the worst winter in recent years."