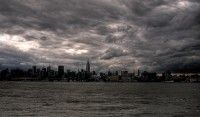 Many cities in the east and central reported the coldest July on record and some cities a top 5 coolest June and July period. Here is one of the latter - New York City's Central Park.
With an average daily temperature of 72.7...3.8 degrees below normal... This is the sixth coolest July on record at Central Park.
Daily average temperatures have been at or below normal every day but two this month (the 28th and 30th)...for 46 of 48 days dating back to June 13th...and for 54 of the 60 days since June 1st.
Central Park has had only one day reach above 85 degrees so far this summer (86 on July 17th). This is the fewest number of days above 85 on record at Central Park since records began being taken in 1869. The old record was 7 in 1996.
Central Park has yet to reach 90 degrees this summer...for only the second time on record. The only other year not to have at least one 90 degree day in June or July was 1996.
For the months of June and July...the average temperature in 2009 is 70.1 degrees, making this the third coolest June and July on record in 151 years at Central Park. See story NWS
here
and
New York Times
here
.