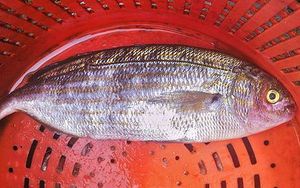 The species of bream is normally found in the balmier waters of the Mediterranean and South Africa, was found by fisherman Andy Giles in his nets in the English Channel.
Mr Giles, 38, caught the fish, which is instantly recognized by its gold stripes running along its body, six miles south of Polperro, Cornwall.
"We were trawling for lemon sole and hauled up the net at the end of the day and almost immediately saw this striped fish, we didn't have a clue what it was," he said.