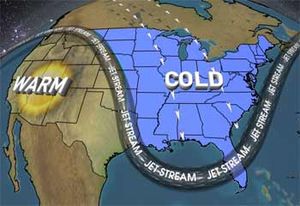 Just like last week, we have a
storm system which will move from the Midwest to the East Coast
over the weekend with a dump of bitter cold air following close behind.
Pictured to the right is the incoming large dip in the
jet stream
that will follow this storm and setup shop in the East. This will allow temperatures to fall 10 to 30 degrees below average during the weekend and into next week.
The opposite reaction is a bulge northward in the
jet stream
over the West, resulting in mild temperatures and some possible record highs.
Map:
Current temperatures
|
Current wind chills
The first signs of this new chilly blast can be seen on the maps below over the Upper Midwest this weekend. Some cities will struggle to make it above zero during the day, including
Minneapolis/St. Paul
by Sunday.
By Monday and Tuesday, afternoon temperatures will range from the single digits, teens and 20s over the Midwest and Northeast to the 30s and 40s over the Southeast. The southern half of Florida may not make it out of the 50s or low 60s. Gusty northwest winds will make it feel even colder