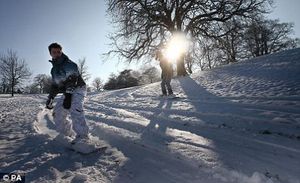 The big chill is set to tighten its grip over the weekend as forecasters say we could be on for the coldest February in nearly a quarter of a century.
Temperatures in the first two weeks of the month averaged just 2.1c (35.8f) - meaning Britain has been far colder than Vancouver, where the organisers of the Winter Olympics have been forced to truck in snow.
The freezing conditions will continue over the weekend with some areas experiencing overnight lows of -6c (21f).
The latest blast of wintry weather led to problems for travellers today, with forecasters predicting further snow over the weekend.